Camille Solari has garnered literally dozens of awards in the film festival circuit across the world over the past year for her films, television episodes, and narrative music videos. After writing and directing her television series Charlie for Amazon Prime, Tubi and Roku for nearly a decade, Camille decided to parlay her uniquely cinematic, colorful and musically driven work into the film festival world. Camille's, 'Don't Pop My Bubble', a narrative music video + film about anti-bullying, garnered awards at, The iHollywood Film Festival, The Global Music Awards, The Prague Music Video Awards, The Markham International Film Festival and as well as the prestigious Los Angeles International Music Video Awards, where her daughter Charlie (co-writer and performer) also garnered the esteemed Revelation Award.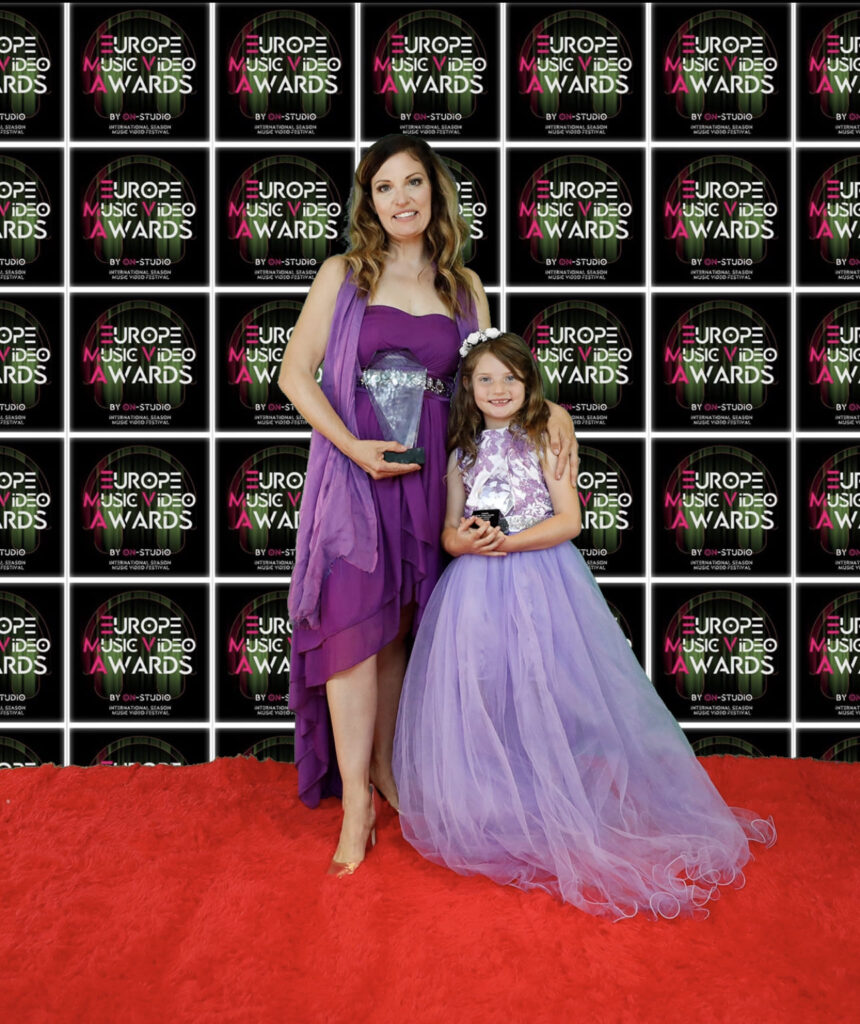 DON'T POP MY BUBBLE
Camille's songwriting partner Deedee O'Malley as well as her daughter Charlie (9) co-wrote the song. Camille and Deedee have written dozens of songs together for both The Charlie TV Series, as well as other songs like, Pink Pink Pink for Camille's comedy special #Hello New Zealand, #My Life in Pink (which will be released early 2024). They are currently putting out a children's album for the 2024 Grammy competition.
Her short film, A Very Strange Day, starring Charlie Dean with younger sister Blade Dean filmed in Los Angeles and New Zealand also was awarded best mini film at The iHollywood Film Festival; which was a post apocalyptic story of two girls who are seemingly the last ones left on Earth. 
With a background in stand up comedy, having been the first women in television history to stand up comedy pregnant and showing on Late Night TV (The New Arsenio Hall Show) and music (her first feature being The James Brown Documentary with icon James Brown) She has brought these two worlds together
in her television pilot Lost in Regina which also won The Vancouver Movie Awards, The Sask International Film Festival as well as the Markham International Film festival.
LOST IN REGINA TRAILER
Camille is currently wrapping up her experimental feature Double Blade, loosely based off the film "The Double Life of Veronique" a Kieślowski Film, whom Camille's work is heavily influenced by. Camille and her youngest daughter Blade (5) garnered the esteemed award for her music video and song , A Best Friend, (song co-written by Camille Solari & Deedee O'Malley) at The European Music Video Awards. The film was quoted as "cinematically epic."
A BEST FRIEND
Camille's favorite films and television are quite classic, Alfred Hitchcock's Rear Window, Stanley Kubrik's The Shining, and Lucille Ball's 'I Love Lucy.' She and her family, particularly her youngest, Blade, love to indulge in cult classic films such as, 'The Creature From The Black Lagoon,' and 'Attack of The Killer Tomatoes' to name a couple.
Camille, "I love working with with kids and funny people, but often putting them into an off-setting environment. The music and look is everything to me in whatever I do. I've always been inspired by vintage objects and saturated colors…" And finally to add to the pile, Camille also came in first place for her feature screenplay 'Bling' at the Los Angeles Script Awards.