Written, directed and produced by Elena Viklova, 'Dictionary' is a 2022 short that stars Aishwarya Sonar (The Gray Man, Kay Re Rascalaa, Three's Definitely a Crowd) and Mona Sishodi (Two Distant Strangers, Grown-ish, New Girl). The film showcases seven stages of love from the eyes of a woman who experiences it firsthand.
We have all been in love. But how do we define love? What is it and how is one changed by it? Most of the time, Hollywood focuses on the couple experiencing love and how it changes them in unique ways. But love is as personal as much as it is a shared experience. It changes each individual it touches in a different way. In Dictionary, Elena Viklova has chosen to show how the advent of love transforms a person, from its onset to its eventual demise.
The first thing we noticed about the film is that it has no spoken dialogue with the only verbal exposition being provided by Sonar's voiceover. The entirety of Sonar's performance is therefore physical. We found this detail to be extremely interesting in the context of the film. Since love is a powerful emotion, we manifest as much of it from our body language as we do from other cues and so, Viklova's decision to go with this point of view manages to work wonders here.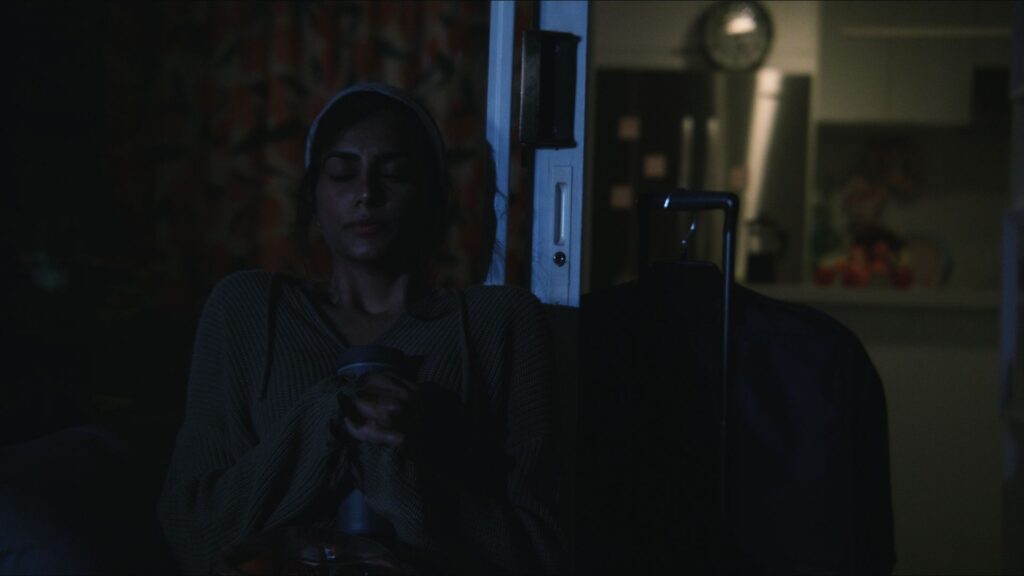 Talking about the performances, Aishwarya Sonar as the unnamed titular character is fantastic. Since she is the window through which the audience experiences the seven stages of love, Sonar has the weight of the entire production upon her shoulders. With her experience in countless shorts and even a part in the big budget Hollywood production 'The Gray Man', Sonar knows exactly what to do in order to ace this film.

With zero lines of spoken dialogue, she conveys a multitude of emotions through her physical presence alone, allowing the audience to peek into her mind as her character goes through these seven stages of love. From being calm and composed in the start to falling in love head over heels and then going crazy at the end, Sonar manages to bring something different to each stage.
The direction by Elena Viklova takes this unique perspective and brings it to life in all of its glory. Viklova keeps the pacing tight, ensuring that the audience remains invested throughout. As she has written the script herself, Viklova knows exactly what to focus on. Each frame has a story to tell in this journey of discovery.

This character portrait of a woman is made up of a sum of unique moments and the beauty of the film is that it is able to capture the poetry in these moments. We are seeing Sonar's character evolve in real time and it feels natural to see her go through each level of transformation.
Of particular note is the film's cinematography. Each of the seven stages are lit in a particular tone that not only sets them apart but also conveys the underlying emotion in each of them. I particularly loved the 'madness' segment; that red hue highlighting the protagonist as she briskly paces with a cigarette in her hand, dishevelled. There is also the white-ish colour in the 'death' segment signals the end of the character's romantic endeavour. There is a form and energy that Eric Alt, the film's cinematographer has managed to achieve and it is nothing but marvellous. From the first frame of the film to its last, a perfect mix of synchrony has been achieved.
The camera work is fantastic as well. The focus of each frame is Sonar's character. We see her surrounded by people yet alone as this feeling begins to slowly take over her. From glee to obsession to craziness to emptiness, the cinematography makes Sonar feel like almost a vessel as this feeling takes her on a whirlwind journey of mixed emotions. Kudos to Alt for visually servicing the film according to the underlying narrative as it makes the story that much more effective. In respect to sound design, it also works in tandem with the visuals to complete the story. Both from a technical viewpoint and a narrative perspective, this is a well made production that does its central idea justice.
To summarise, Dictionary is a fantastic effort that will move you in unexpected ways. A beautiful original idea that was made a reality by Elena Viklova and her team, the film is beautifully shot, fantastically acted and perfectly paced. We love a film that makes us think and Dictionary is one such endeavour that not only provides a fresh perspective to one of the most intense feelings in human existence but also manages to do so in a simple yet splendid way.
Watch "Dictionary" here: