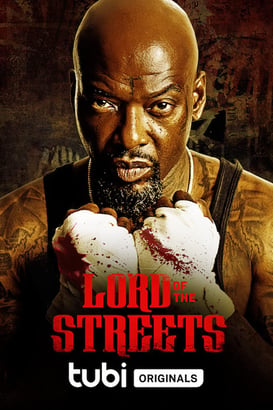 Since UFC burst onto the sporting scene 30 years ago it has been entwined with various mediums of art and culture with no signs of it going anywhere. The medium of film has ridden the wave of combat sports for years as a slew of UFCcentric films have made their way onto the landscape of cinema and all are "fighting" to make a name for themselves. Enter into the arena Lord of The Streets, a hard-hitting banger of a fight movie starring Treach (of the legendary Naughty By Nature), Khalil Rountree and UFC legend "Rampage" Jackson, as well as a bevvy of other UFC stars.

Treach stars as a former Champion fighter, who is a down on his luck ex-fighter with money issues and family problems, and who is forced between a rock and a hard place with the worst kind of people that you'd not want to be in that kind of situation with. Those same people use Treach's own vices against him as they force him into an unwinnable situation that he must find his way out of. The high stakes that the main characters must deal with are laid out in the opening scene when Khalil Rountree's own violent tendencies send him to jail and starts his destiny traveling down a path that will coincide with Treach's. He must take his highly explosive fighting abilities, which are untrained and unpolished, and wager them to save the lives of both him and Treach..
Lord of The Streets is a solid action film produced by Mutiny Films and expertly directed by Jared Cohn, who does a solid job of pacing out the story to keep it compelling as each character's role in the aforementioned high stakes are revealed. Cohn clearly goes by the adage of "if it ain't broke, don't fix it", and brought with him onto this show the team from Mini Nation Pictures to make sure things went smoothly. With them they brought the same creative energy that they had on 2021's "Swim" as they showed a tight budget only fuels their creativity. Michelle Ng came on board as UPM to oversee the Production and make sure it was smooth sailing. She brought with her the whole team to keep things on the right track and strengthen the crew. With her protégé's Paula Iglesias and Ines Kayali Varez once again both serving again as her Production Coordinators.

Also, as a way of guaranteeing the images making their way into the can were of top quality, she brought on her longtime collaborator Tatsuya Ueno to run the Steadicam as well as Madina Ismailova to Steadicam operate as well. Both provided stellar visual efforts as they supported the vision of their Cinematographer Marcus Friedlander assisted by Laisa Santos. Rounding out her team is the as always invaluable Irene Puente, Brandon Willson and James Kaemmerling putting her talents to work as her trusted Production Assistants, and Nicola Varoli providing support to Tatsuya and Madina as he filled the role of 2nd AC. With the team rounded out and in place to ensure the Production ran smoothly they all set out to craft together a highly entertaining piece of cinema to thrill audiences, and boy did they.
With the stakes being set, the main players all in place in their pivotal roles and the tension ramped up to 11, the stage is set for an intensely climactic third act. One that ties in all the elements that ensures this ride comes to an explosive finish as opposed to sputtering out at the finish line as many films do. Cohn proved with this that he knows how to employ good character development, unique lighting and innovative shots, as he combines them with a solid score and soundtrack to meld them all into an entertaining package in the end. He had the foresight though to bring on Michelle Ng and her team to make sure this film was a success, which judging by its viewership on TubiTV, he has done just that.

Also, as bonus, pay close attention to the ring announcer during the climactic scene, as that is Mini Nation Pictures' own Michelle Ng pulling double duty and showing she has some solid acting chops of her own to go along with her other varied talents.