For the first time at a mainstream film festival opening night, three Asian American Pacific Islander documentaries come together with their directors.
Oscar-shortlisted documentaries Bad Axe and 38 at the Garden kickoff opening night, followed by the New York premiere of UNCONDITIONAL (Prisca). The event starts at 5pm, March 1, 2023, on the first day of the Justice Film Festival at DCTV's Cinema for Documentary Film in New York's Chinatown.
"This opening night is a groundbreaking moment. I wish our festival was not the first," says Justice Film Festival director and founder Andy Peterson. He went on to say, "These three directors are part of a trailblazing wave of filmmakers."
"Breakthrough Voices" – a Fireside Panel Discussion
Following special screenings of their films, the directors take the stage for a no-holds-barred conversation about the tough questions dominating communities of color: why aren't they seen as American stories? Are they scared to tell their own stories? Why these films now? How do recent violence and hate factor into their films?
Moderated by NBC News Studios, Head of Documentaries, Molly O'Brien, directors Frank Chi, David Siev, and Richard Lui get raw on the panel titled, "Breakthrough Voices: how showcasing AAPI films can change the headlines." The panel will explore how AAPI film narratives can boost awareness and reduce negative sentiments around recent flashpoints of conflict and violence hitting AAPI communities.
This opening night event is co-presented by CAAM (Center for Asian American Media), A-Doc (Asian American Documentary Network), APFE (Asian Pacific Filmmakers Experience), and AARP.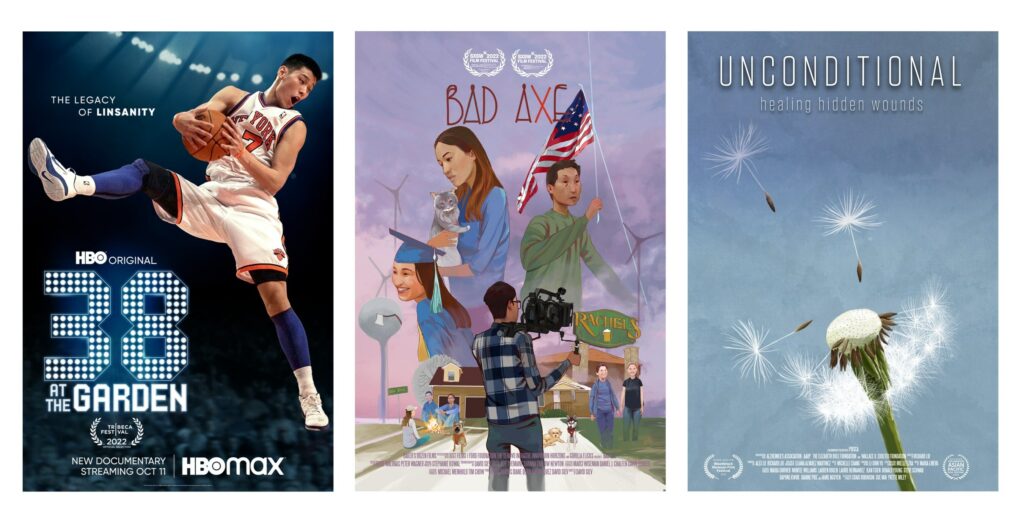 Bad Axe, directed by David Siev, was a 2023 Oscar-shortlisted documentary feature. Executive Producer Daniel Dae Kim. The IFC and 3AD film captures the director's closely knit Asian-Mexican American family as they fight to keep their American dream alive in a rural Michigan community while reckoning with a global pandemic, racial tensions, and generational scars from Cambodia's "killing fields."
38 at the Garden, directed by Frank Chi, was a 2023 Oscar-shortlisted documentary short. Featuring Hasan Minhaj, Lisa Ling, Pablo Torre and Ronny Chieng. This HBO Documentary chronicles the NBA's Jeremy Lin during his landmark 2012 New York Knicks season. A decade later, this groundbreaking, cultural icon stands in stark contrast to recent hate crimes against the Asian American Pacific Islander (AAPI) community. 38 celebrates a phenomenon bigger than basketball for the world.
UNCONDITIONAL, directed by Richard Lui, reaches theaters, PBS national, and streaming in May 2023 with release by Universal Pictures Home Entertainment. Executive Producers Maria Shriver, Montel Williams, Lauren Rogen, and Laurie Hernandez. The film follows three families (including the director's) as they set off on a journey of self-discovery, taking on the most emotional topics of our day – physical and mental health – surprised by how they emerge stronger in the end.
Justice Film Festival has provided a platform since 2012 for redemptive stories of marginalized people and ecosystems bravely overcoming challenges and bringing hope, compassion, and light. This year's festival will be in New York City, March 1-4, 2023. www.justicefilmfest.com.