Chandler, Arizona – The world premiere of the highly-anticipated feature film "The Squad" is set for Monday, January 23rd at the Look Dine-In Cinema in Chandler, Arizona, just outside of Phoenix.
A packed theater of excited fans who have been eagerly awaiting to see the action-packed movie since it was filmed over a year ago in Oklahoma will join the lead cast of Alea Hansinger (Bella), Meghan Carrasquillo (Gina), Grace Evans (Dani), UFC fighter Julia "The Raging Panda" Avila (J.C.), Wil Wilson (The Housekeeper) and Clint McGown (Url) along with writer and director Rick Walker.
The story was conceptualized and Executive Produced by Lisa Faast along with Cody Barnett, Chris Williams, Matthew Frazer, Nikki Stier Justice, Shawnee Brittan and Steve Hill and is being distributed by Santa Monica based Buffalo 8 Films in North America and 101 Films in Europe, Australia, Asia, Central America and South America. The intense action flick was produced by Faast, Brittan, Walker and Kennady Ritter at State 46 Films.
Faast's story concept and Walker's sure-handed directing provided us with a unique and fresh perspective to the action genre.
Film Threat describes 'The Squad' as a delicious recipe for a hit, explaining, "Three bikini-clad killers known to gen-x spring-breakers as 'The Squad' take on an entire drug cartel that threatens their popular drug-selling operation."
Stand out performances are in heavy supply from badasses Hansinger, ('Lovecraft Country' | HBO), Carrasquillo ('Hider In My House' | Hulu) and newcomers Evans and Avila.
Hansinger let's us know from the start that Bella is the moral compass of the trio. She maintains a wise albeit reluctant tone throughout, showing a full range of emotions, perfectly delivered at every turn.
This is a big league at-bat for Hansinger who manages to glide through the intensity of this story keeping her character right on track despite constantly having a gun in her face. We know she's outwardly brazen while full of internal struggles because Hansinger let us feel Bella's struggles at every turn.
Only the bravest of actresses will attempt a multi-layered role like that of Bella and very few of those will deliver the goods like Hansinger.

Evans comes in guns-a-blazin' as Dani in her feature debut, though you'd never know this was her first.
Her quick-hitting action sequences and laugh-out-loud, well-played comedic zingers are rarely achieved by a young actor in such a fast-moving flick.
Evans delivered an exceptional performance with dazzling confidence on the level of a seasoned vet.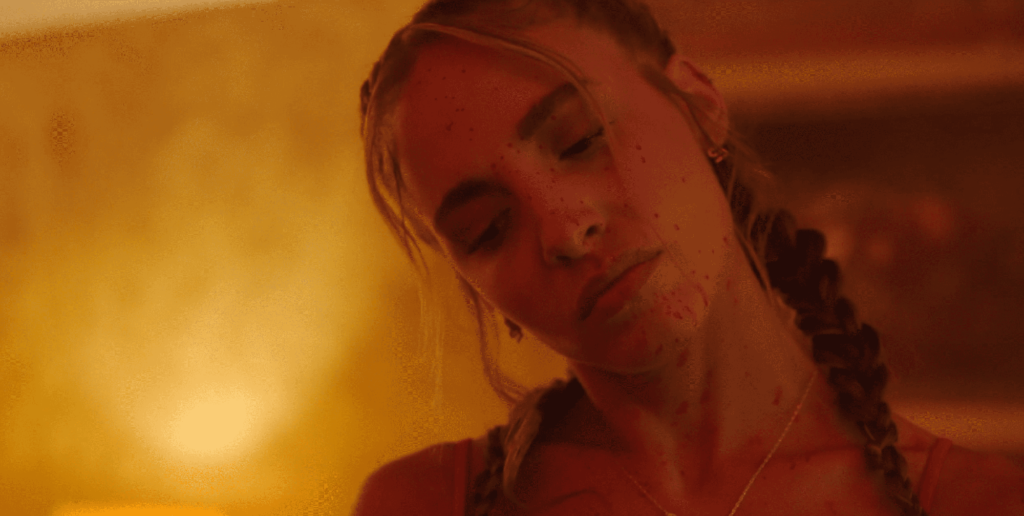 And then there's 'G' played by the ferocious Meghan Carrasquillo. From a verbal assault in Spanish to one in-your-face killer scene after another, you'll find yourself getting antsy when this sassy bitch is not on screen.
She always leaves you wanting more whether she's just chillin' or about to blast someone all to hell.
Walker allows Carrasquillo plenty of room to play in this movie and it would have been tempting to take our girl 'G' over the top turning the role into a sweaty mess, but she never takes the bait.
She keeps Gina as menacing as we want her to be, but Carrasquillo's character is perceptive and provocative throughout 'The Squad'…maybe even subconsciously playing herself as Gina feels uncomfortably real.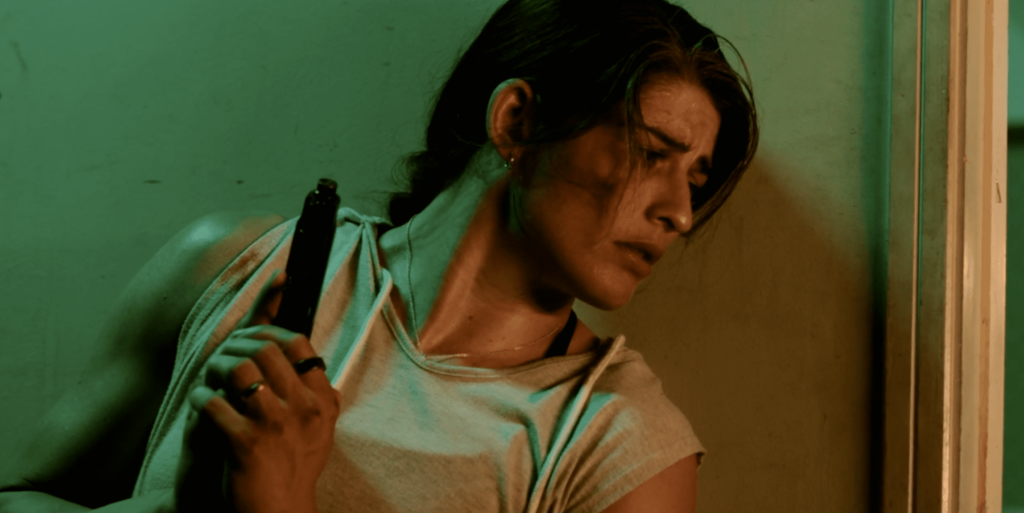 Time to talk about jiu-jitsu black belt and highly ranked UFC fighter Julia Avila. Pardon my forthcoming puns, but she delivers a cast iron punch to the face of anyone who might have had questions about her acting skills and screen presence.
Her fight scene alone is worth the price of admission, but she appears to be in control throughout, toying with us and with our perception of what is authentic—in ways that are very clever and intriguing.
The ripped Avila seems to relish the role of J.C. the Lieutenant of the local drug ring. She's fearless, confident and a carries every moment she's on screen, even "flexing" her comedic biceps delivering a few quippy "punch" lines. (You were warned about the puns.)
Avila has the stunning on-camera presence of a super-hero and no…you do not want to face this lightening-quick, tough-as-nails gal in hand to hand combat. She's going to find a way to win. She's not only physically strong, quick, efficient and confident, but the same words can be used to describe her acting.
The men in this movie bring it as well, most notably Wil Wilson ('The Housekeeper') a gentle giant who stays consistently strong during each of his timely and welcomed appearances. I wanna be him when I grow up.
Clint McGown ('Url') turns in a "can't take your eyes off the screen" performance which left us wanting more from this edgy hillbilly. A little can be a lot with this Url guy and McGown seems to understand that as he amps up just enough volume in each of his scenes, owning 'em all. The dude was born to play this guy.
Other notable performances came from the Hannah Hunt as 'Taylor' a cute little local drug dealer. Her acting chops are on full display even as the wind from Walker's script blows her character all over the little lake town, she stays the course turning in some heightened, legit moments.
Shawnee Brittan is spot on and natural as the devilish cartel leader 'Frosty', cleverly keeping his menacing performance just below the boiling point.
Jordan DragonKing ('Hef') is quiet, methodical, maniacal and full-on terrifying from start to finish.
Jennifer Ferguson delivers a subtle, flawless turn as the squad leader 'Alpha' playing it close to the vest, vibing that she knows more than we do. (Spoiler alert: She does.)
Ricky Catter's finely-tuned performance as Roberto, the reluctant and sympathetic drug dealer, achieves the rare feat of pulling off the good guy who's a bad guy role with ease.
Kyle Brown brings a subtle and refreshing approach to his New York hitman role. No typical tough-guy, a-hole routine here. Instead his unique spin legitimately ratchets up even more tension in each of his scenes.
The crisp writing and finely-tuned direction aren't as noticeable at first glance because Walker keeps us so engaged.
I found myself thinking back through the film quite bit after watching it and realized it was a lot of story lines and characters for Walker to wrangle and craft into such a satisfying experience.
Just when he gives us a second to breathe, it's go-time again. He charted a rocky course from Faast's concept and sailed through the rough waters with ease, even managing to work in a few softer moments and back stories for his riveting characters that I began missing as soon as the closing credits rolled.
With that said, Walker never lingers too long to take us out of the multi-layered, bad girls versus bad guys versus other bad guy story.
Watch and listen closely because it's extremely efficient. There are no wasted words or scenes in this kick ass movie. My only negative critique is that it's too short. A few scenarios could have played out longer, in my opinion. But try as I did, I couldn't find anything to grind.
The fast-paced editing from Walker and Jacie Quillen pushes the narrative just over the speed limit and keeps the adrenaline high. These two are non-linear storytelling sharpshooters and they crafted a film that works so you don't have to.
"The Squad" comes straight at you and the only bugger about this flick is that it's over before you know it.
(Bonus note: Buffalo 8 has announced plans for a sequel as fans will eagerly await the next chapter in the adventures of "The Squad.")
Film Threat's Editor-in-Chief, Alan Ng raved, "The Squad works because Walker (writer/director) allows us to learn about the trio's past and the events leading to their life of crime. As a result, it's easy to fall in love with each character and after an evening with them, getting killed doesn't seem all that bad."
Ng added, "The film features strong performances and its exciting action sequences and intense confrontations are woven perfectly into the well-crafted storyline."
At press time, only a handful of tickets remain for the premiere event at https://www.eventbrite.com/e/495560664287
Following the film, the audience in attendance will be treated to an exclusive behind the scenes look at the movie and a Q&A with the lead cast and filmmakers.
For more visit THE SQUAD website: https://squadmovie.com