The Art Directors Guild (ADG, IATSE Local 800) announced winners of its 27thAnnual Excellence in Production Design Awards in 14 categories of film, television, commercials, music videos and animation features, during a black-tie dinner gala at the InterContinental Los Angeles Downtown on Saturday night, February 18, 2023. Guillermo del Toro's Pinocchio (Guy Davis, Curt Enderle), Babylon (Florencia Martin), Glass Onion: A Knives Out Mystery (Rick Heinrichs), and Everything Everywhere All at Once (Jason Kisvarday) won Best Production Design for Feature Film. Television winners included "Pachinko: Chapter One" (Mara LePere-Schloop), "How I Met Your Father: Pilot" (Glenda Rovello), "Our Flag Means Death: Pilot" (Ra Vincent), "Severance: Good News About Hell" (Jeremy Hindle, Nick Francone), "Saturday Night Live: Jack Harlow Hosts Season 48 Episode 4, Jack Harlow Musical Guest" (Keith Raywood, Eugene Lee, Akira Yoshimura, N. Joseph De Tullio), "The Lord of the Rings: The Rings of Power: Adar" (Ramsey Avery) and "Guillermo del Toro's Cabinet of Curiosities" (Tamara Deverell) respectively. Additional winners include Adele "I Drink Wine" (Liam Moore), The Lord of the Rings: The Rings of Power "Title Announcement" (Brian Branstetter), and 94th Annual Oscars (David Korins).
"We are so proud to honor the production designers and artists who create a vision to transport the audience into different worlds. Tonight's slate of ADG winners and honorees are the best visual story tellers in the business and we congratulate them as we celebrate another year of excellence in Production Design," said Michael Allen Glover, ADG Awards Chair.
The awards took place before a sold-out audience of over 1,000 guild members, industry executives and press. ADG President Nelson Coates, ADG, and Art Directors Council Chair Evan Rohde, ADG, presided over the awards ceremony with actress/comedian Yvette Nicole Brown serving as host.
Academy Award®-nominated filmmaker Baz Luhrmann and his producing partner and collaborator,
Academy Award- winning production designer/costume designer Catherine Martin, received the esteemed
Cinematic Imagery Award. Together they have created visually enthralling masterpieces including their recent
blockbuster Elvis, nominated for an Oscar® for Best Motion Picture. The award was presented by
four-time Oscar-nominated actress and producer Nicole Kidman.
Multi- Academy Award- winning filmmaker Guillermo del Toro, also nominated for an Oscar this year for
Guillermo del Toro's Pinocchio, was feted with the esteemed William Cameron Menzies Award, celebrating his visually striking and emotionally rich body of work. The award was presented by Peter Ramsey, director of the Spider-Man: Into the Spider-Verse.
Terence Marsh (Doctor Zhivago, Shawshank Redemption), the late legendary production designer and art director, was inducted into the ADG Hall of Fame, with a special presentation by Oscar-winning Production Designer Rick Carter, ADG (The Fabelmans, Avatar). Joining Marsh was pioneering silent film art director, costume designer, writer, dancer, and occasional actress Natacha Rambova (Salomé, A Doll's House), presented by Production Designer and Awards Chair Michael Allen Grover, ADG (Stations Eleven).
Four esteemed Lifetime Achievement Awards were presented. Academy Award-nominated Production Designer Lilly Kilvert, ADG, (The Crucible, The Last Samurai, Legends of the Fall), received the Art Directors Council (AD) Award, presented by four-time Academy Award-nominated actress Annette Bening. Michael Denering, ADG (Batman Returns, Jurassic Park) was honored with by the Scenic, Title, and Graphic Artists (STG), presented by John Moffitt ADG. Set Designer Luis Hoyos, ADG, (Memoirs of a Geisha and Dreamgirls), was recognized by the Set Designers and Model Makers (SDMM) Council, presented by John Chichester, ADG (Pirates of the Caribbean: On Stranger Tides). Illustrator/Storyboard Artist Janet Kusnick (Jungle Cruise, Silverado, The Day the Earth Stood Still) was honored by the Illustrators and Matte Artists (IMA) Council, presented by Cynthia Anderson Barker.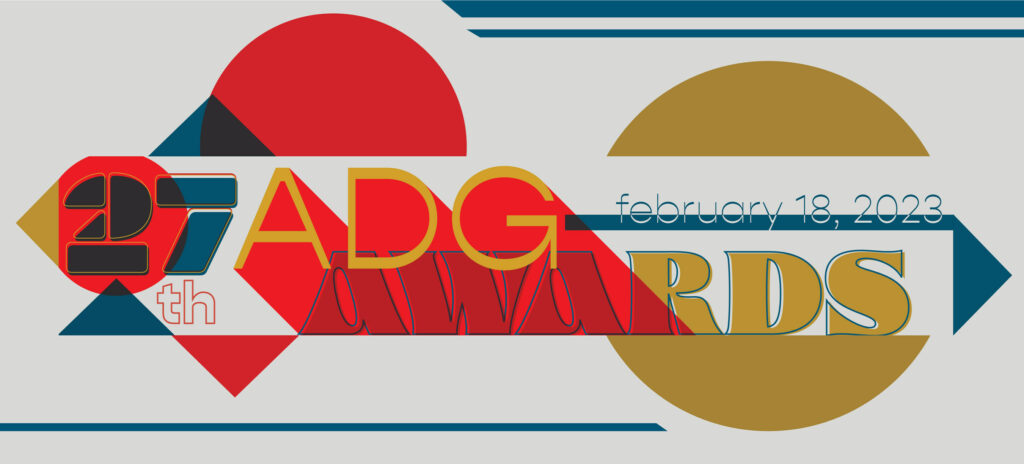 Additional presenters included Brett Gelman ("Stranger Things"), Emily Hampshire ("Schitt's Creek," "The Rig"), Kathryn Newton (Ant-Man and the Wasp: Quantumania), Vico Ortiz ("Our Flag Means Death"), Tom Pelphrey ("Ozark," Mank), Samba Schutte ("Our Flag Means Death"), Jimmi Simpson ("Westworld," "Star Trek: Prodigy") and Nia Vardalos (My Big Fat Greek Wedding), among others.
The awards were produced by Art Director Michael Allen Glover, ADG (Station Eleven, The Alienist, Solos),
Production Designer Megan Elizabeth Bell, ADG (Out of the Blue, Breakwater, American Murderer) and Debbie
Patton, ADG Awards & Events Director.
Winners of the 27th Annual Art Directors Guild Awards:
***WINNERS FOR MOTION PICTURES:
1. PERIOD FEATURE FILM
Babylon
Production Designer: Florencia Martin
2. FANTASY FEATURE FILM
Everything Everywhere All at Once
Production Designer: Jason Kisvarday
3. CONTEMPORARY FEATURE FILM
Glass Onion: A Knives Out Mystery
Production Designer: Rick Heinrichs
4. ANIMATED FEATURE FILM
Guillermo del Toro's Pinocchio
Production Designers: Guy Davis, Curt Enderle
***WINNERS FOR TELEVISION:
5. ONE-HOUR PERIOD SINGLE-CAMERA SERIES
Pachinko: "Chapter One"
Production Designer: Mara LePere-Schloop
6. ONE-HOUR FANTASY SINGLE-CAMERA SERIES
The Lord of the Rings: The Rings of Power: "Adar"
Production Designer: Ramsey Avery
7. ONE-HOUR CONTEMPORARY SINGLE-CAMERA SERIES
Severance: "Good News About Hell"
Production Designer: Jeremy Hindle, Nick Francone
8. TELEVISION MOVIE OR LIMITED SERIES
Guillermo del Toro's Cabinet of Curiosities
Production Designer: Tamara Deverell
9. HALF HOUR SINGLE-CAMERA SERIES
Our Flag Means Death: "Pilot"
Production Designer: Ra Vincent
10. MULTI-CAMERA SERIES
How I Met Your Father: "Pilot"
Production Designer: Glenda Rovello
11. VARIETY, REALITY OR COMPETITION SERIES
Saturday Night Live: "Jack Harlow Hosts Season 48 Episode 4, Jack Harlow Musical Guest"
Production Designers: Keith Raywood, Eugene Lee, Akira Yoshimura, N. Joseph De Tullio
12. VARIETY SPECIAL
94th Annual Oscars
Production Designer: David Korins
13. SHORT FORMAT: COMMERCIALS
The Lord of the Rings: The Rings of Power "Title Announcement"
Production Designer: Brian Branstetter
14. SHORT FORMAT: MUSIC VIDEO OR WEBSERIES
Adele "I Drink Wine"
Production Designer: Liam Moore