Written and Directed by Mike Heff, 'Punk Kids' is a 2023 drama feature that stars Wynton Odd, Sephanie Heiner, Kailli Nau, Jasmin Corley and Richard "Big Rich" Bougere.
Elmo, Sid and Nancy are three young friends trying to create the next big punk rock band. However, life is not as simple as we dream it out to be. The trio is extremely passionate and practice regularly but are still struggling to headline their first show. As life bogs them down, Elmo will rise above his problems, realising that the true meaning of punk rock might be staying true to yourself in face of towering odds.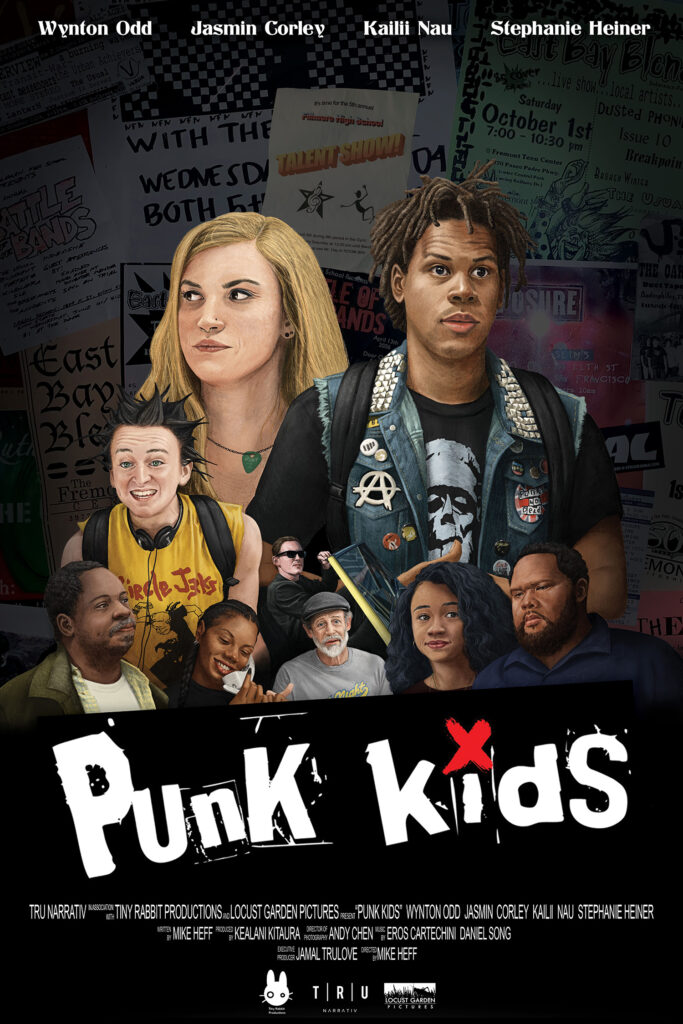 Punk Kids is a highly engaging film through and through. Rarely does a film come along today that not only makes you root for the protagonists but enables you to see these protagonists develop over time. As we experience this friendship between three friends blossom over time, we appreciate the deep care put into these characters by Mike Heff. Heff has accurately captured the hopefulness and optimism of passion during adolescence and how we believe we can accomplish anything at that particular moment of our lives. There is much to learn from this and as a person gets older, he learns to look at these memories with fondness and melancholy. The film is, in essence, a celebration of the glorious dreams that we have in our youth and the grit we undertake to make these dreams a reality.
As far as the direction is concerned, Heff's passion project is impeccably directed. Not only does Heff know how to tell a good story but he is also skilled in how to develop the story as time progresses. From its opening scene to its very end, Heff's film is a rollercoaster of emotions and drama. Everything chugs along organically and there is specificity in how Heff choses to develop his plot. Accurately capturing the zany energy of a youth punk rock band, Heff has delivered an authentic music film, one that captures the various trials and tribulations a young band goes through on its way to greatness.
The trio of Elmo, Sid and Nancy is the emotional bedrock of the film and all three teens are perfect together. Wynton Odd plays Elmo, Kai Nau plays Sid and Stephanie Heiner plays Nancy. Each actor is perfectly casted according to his or her characters and brings an earnest innocence and youth to the story. Wynton Odd is fantastic and the way he keeps the band together through thick and thin is extremely impressive.

Since they are part of the same band trying to make it big, the trio get through everything together. Experiencing the happy moments, the sad ones and everything in between as a group makes their bond strong and makes them stronger for the next challenge. Alex Mortensen as Tim and Jamal Trulove as the Preacher are also great and the rest of the supporting cast does a tremendous job of making Heff's passion project a reality.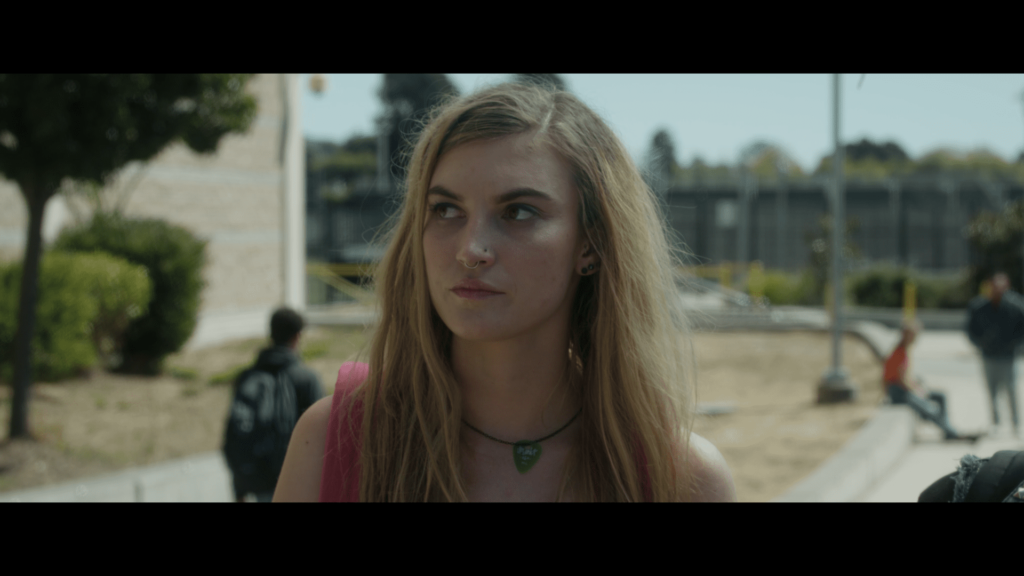 Now, let's talk about the narrative pacing. The film is almost a hundred minutes long but the drama is so deftly developed and paced that it doesn't feel as long. The character interactions are kept to the point and Heff manages to make everything interesting. The result is a film in which the audience finds itself invested in and does not get bored of.

Since there are no superfluous dramatic turns, character interactions feel authentic and there is no outlandish plot thread that would feel out of place. In addition, the editing that complements the narrative pacing is similarly impressive. Cramming so much story into a 100 minute film is no mean feat and Heff manages to accomplish this without fail. 
Another great aspect of the movie is its crisp cinematography. The film manages to capture the drama well, using a variety of camera setups to replicate the feel of an energetic coming of age story. Not only is the lighting properly done but the colours and hues give the whole film an expensive look. The film looks as beautiful as any major Hollywood production and this is a fantastic plus point when it comes to marketing the film to the masses.
Now let's talk about the sound design, which for a film that deals with music, is probably the most important part of the production. Heff goes above and beyond in recreating the aura of both underground gigs and sold-out huge concerts. As a frequent attendee, I know how different each experience feels. The size of the room, coupled with acoustics and the way sound travels from the stage to the masses is what makes each experience feel unique. Heff, as a lifelong fan of the musical arts, is well versed in this and he carefully curates each song to reflect its audience and its setting.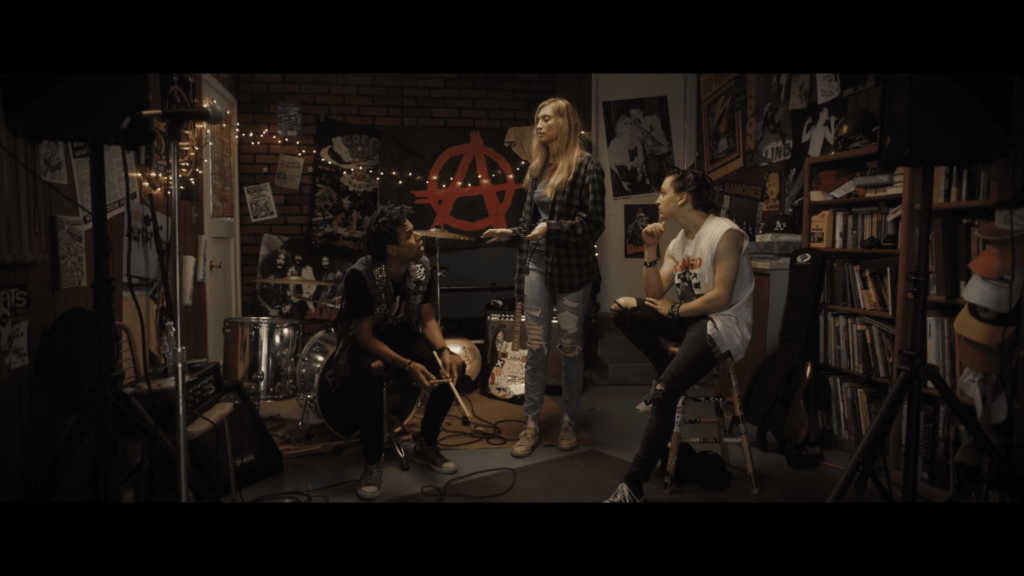 As far as heartfelt stories go, Punk Kids is one of the rare ones that will make you nostalgic and melancholic at the same time. Made with love, passion and appreciation of youth's obsession with music, the film will move you in unexpected ways. The characters are fantastic and believable, their journeys and obstacles even more so. There is a unique authenticity to the film that is rarely found in motion pictures nowadays and all of this is due to Heff's unflinching love for a genre that he holds most dear. A deeply personal love letter to music by Mike Heff, the film succeeds in more ways than one and is bound to be embraced by audiences everywhere.

About:
Written and Direceted by Mike Heff
Executive Producer Jamal Trulove 
Starring Wynton Odd, Jasmin Corley, Kailii Nau, and Stephanie Heiner
Read more – Director Statement:
Mike Heff is a writer/director/musician from the East Bay Area of California. He started writing screenplays in the summer of 2018 after years of playing drums in a touring rock band. Since then, writing and filmmaking have become his full time passion. At the Sundance Film Festival in 2019 he was inspired to write and direct his first short film based on his experiences as a musician called Punk Kids, which was championed by producer Jamal Trulove from the film The Last Black Man in San Francisco, and is now a feature film. With his stories he hopes to make a meaningful impact on the world and inspire others to chase their dreams
Being raised in the East Bay Area of California, I was greatly impacted by Bay Area culture, particularly the music. My first concert was in San Francisco to see Green Day, a band that grew up in my community and took their talents across the world. This inspired me to become a musician, which led me down a path that only those who chase an artistic dream can understand, the undying need to create. When I began writing screenplays, I knew I wanted to capture my musical experiences in a story, that story became Punk Kids. Punk Kids represents the culmination of my journey leading up to my transition from the music world into film. I hope to inspire those who see this film to keep chasing their dreams as well. Even when those dreams change, never stop chasing.
Punk Kids was filmed during the pandemic and was shot over the course of three years. This passionate group of filmmakers and actors never let the obstacles stop them and persevered to make this film a reality. The film was stitched together in the true spirit of a punk rock do it yourself attitude. The film features prominent Bay Area figures such as Jamal Trulove, and Gunna from the Sundance award winning film The Last Black Man in San Francisco, Bay Area Rap legend Big Rich, and influencer Jasmin Corley. Wynton Odd is also a well known Bay Area actor appearing in many independent films and commercials. 

punkkidsfilm.com