Vision Films Inc. ("Vision") announces the Transaction VOD release of the thriller murder mystery Twisted Vines on August 18, 2023. The award-winning festival favorite was written by Corinne Sbeih and Tom Stohlgren, directed and produced by first-time filmmaker Jihane Mrad Balaa, co-produced by Mark Atkins, Vivica A. Fox, Brande Roderick, and executive produced by Thanasis Antetokounmpo. It will be available on transactional video on demand, cable and streaming platforms, across the US and Canada, followed by DVD.
Filmed entirely on location in and around the Robert Renzoni Winery in Temecula, CA, the star-studded ensemble is led by Vivica A. Fox and Michael Paré. It is the first executive producer credit and project for NBA star Antetokounmpo (Milwaukee Bucks) under his Patronum Studios banner.
Synopsis: Set in a secluded wine estate, the intimate wedding of the owner's daughter brings out the best and worst in the invited guests as their simplest exchanges are riddled with secrets. The festivities are soon interrupted by the sheriff who comes out to warn the guests about a nearby fire, checks on his lady friend the Sommelier, but ends up staying to solve an unexpected murder. Watch the trailer: https://youtu.be/TnOO-SWoiM8
Lise Romanoff, CEO and Managing Director of Vision Films shares, "Twisted Vines features an incredible cast entangled in a murder mystery worthy of Agatha Christie set amidst an idyllic vineyard landscape."
Director Jihane Mrad Balaa says, "Having Thanasis trust me with this project, I couldn't have asked for a better ensemble led by Vivica A. Fox for my directorial debut. This movie has comedy, drama and many twists that will keep you guessing until the end."
Executive Producer Thanasis Antetokounmpo adds, "This is Patronum Studios' first film, and I couldn't be more excited. I'm equally competitive on and off the court and look forward to seeing how people react to this movie. Filmmaker Jihane Mrad Balaa did an outstanding job with Twisted Vines, hopefully just the first of many projects we produce together.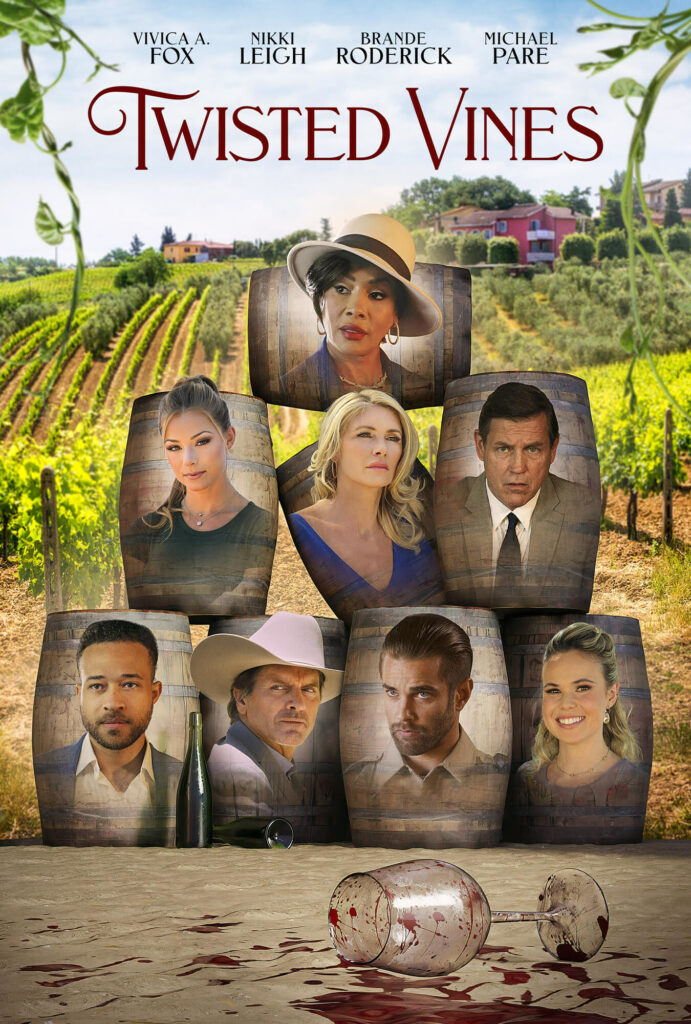 The film stars Vivica A. Fox (Independence Day, Soul Food), actress, model, influencer Nikki Leigh, Michael Paré (Eddie and the Cruisers), Brande Roderick (Baywatch), Jessica Jade Andres (The Last Airbender), Adam Sinclair (Rizzoli & Isles), Jon Briddell, Brian Borello, Tyler Parks (All American), Julia Ubrankovics, Makenna Trim, Torrey B. Lawrence (The Harder They Fall), Rebecca Turner, and James Seastrom.
WINNER – California Women's Film Festival
Best Actress Vivica A. Fox; Best Supporting Actress Nikki Leigh; Best Director Jihane Mrad Balaa.
WINNER – 8 ½ Film Awards – Best Narrative Feature
WINNER – San Diego Movie Awards, Best First-time Filmmaker, Jihane Mrad Balaa
WINNER – Wine, Women & Film Festival, Best Feature Film; Best Director, Jihane Mrad Balaa
WINNER – 1st GIFF | Genesis International Film Festival, Best Feature Film
For more information, visit: twistedvinesmovie.com