Gravitas Ventures, an Anthem Sports and Entertainment Company, and Electrolift Creative present one of the greatest comeback stories in American history in Gotham: The Fall and Rise of New York, arriving on demand March 21, 2023, on all providers including iTunes, Prime Video, Google Play and more. 
Gotham: The Fall and Rise of New York is an exciting exploration of New York City's history and the legacy of its six mayors from 1966-2013. At the turn of a new century, learn how New York went from a failing city with over 2,200 murders, 93,000 violent robberies and over 500,000 annual felonies only to rise-up as America's Greatest City.
Featuring twenty-six interviews, archival footage and re-enactments, Gotham puts viewers in the middle of the action exploring how a city turn-around happens.
New York City became what it is today through the blood, sweat, hard work, innovation, and creativity of a handful of heroes who were willing to challenge the status quo. Learn what they did and why it matters.
"We want the audience to get a historical sense of what was going on in New York during this tumultuous time," said writer, director, and producer Matthew Taylor. "Through the courageous leadership and determination of many, the city was able to turn-around a common perception regarding crime in the area, which can serve as a blueprint on how to revitalize our great cities today."
Featuring candid interviews with former NYC mayor, Rudolph Giuliani, and former NYPD commissioners Ray Kelly and William "Bill" Bratton, the film also features interviews with more than one dozen important figures who helped resurrect the city and those who bore witness including Peter Vallone (Former Speaker, New York City Council), Joel Klein (Former Chancellor, New York City Department of Education), Robert Doar (Former Commissioner, New York City Human Resources Administration), Dan Biederman (President, Biederman Redevelopment Ventures), Fred Siegel (Contributing Editor, City Journal), Joe Klein (Journalist & Best Selling Author), Lee Bowes (CEO, America Works), Peter Cove (Founder, America Works), Michael Goodwin, Columnist, New York Post), and many others.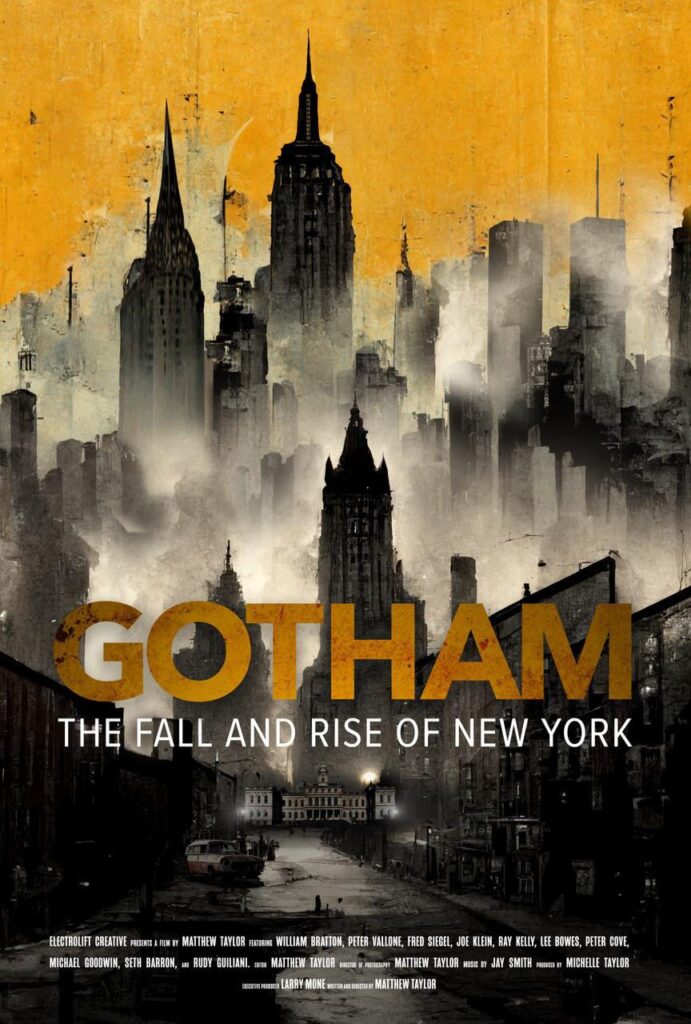 Gotham: The Fall and Rise of New York is written and directed by Matthew Taylor, produced by Michelle Taylor and executive produced by Larry Mone.