Written by Horst Tran and directed by Rafael Maria Friebe, 'I Love You' is a 2023 horror short film that stars Felix Graf, Katharina Gareis Vanessa Klein and Erik Schuecker. The film finds a schizophrenic man hiding a terrible secret which is revealed when a visitor randomly stumbles into his home.
Marcel and Carla are a couple and Marcel has a terrible condition; he has severe schizophrenia. With Marcel off his meds, Carla finds herself in for a nasty surprise. A strong schizophrenic attack makes Marcel believe Carla has cheated on him, resulting in a violent outburst that forces him to gag and beat her. In his mind, Marcel is living a completely different fantasy; he and Carla are in love and living happily while in reality Carla is bound like a prisoner in her own home. When a visitor randomly stumbles upon a chained Carla, a rollercoaster of events are set in motion with deadly consequences for all.
The mind is vast and full of secrets and no one has really managed to cure schizophrenia until now. Friebe's film captures this delicate subject matter with poise; showcasing how individuals with schizophrenia are as much a threat to themselves as they are to others. Rather than a menace, these people are actually patients who need to be given proper care in order to have a chance at healthy lives. However, sometimes, things just go bad. The film manages to depict a schizophrenic patient at his worst, creating an engaging and thoughtful film out of this series of events.
In a short film, pacing is of utmost importance. The runtime is limited and if the plot is a little complex, not every aspect of the story will have a chance to be properly fleshed out. The director needs to cram as much story in the short runtime as possible and ensure that the audience is thoroughly invested throughout the film. With help from some brisk editing, Friebe manages to accomplish both. The story is engrossing and this helps to keep the audience on their toes. There is not a single dull moment in the entire film and thus, the narrative pace flows smoothly. Character beats, moments of drama and riveting moments of tension are all combined together masterfully here.
Equally impressive is the cinematography. Clearly distinguishing between the real world and schizophrenia induced fantasies, Friebe makes sure that the audience is able to make sense of the confusion. The drama is captured well and the trippy memories of Marcel have a different visual texture than the real world. The blue and red hues work their magic and what results is a visually striking production that relies upon cinematography to propel the story forward. Tense moments of character interaction are captured well; the unconventional shots used here depict a struggle to maintain balance on part of the antagonist and an equally strong desire to break free on part of his victim.
In the acting department, each cast member does his or her very best. Felix Graf as Marcel is the star of the show. The entire film rests on his shoulders and Graf, playing the schizophrenic murderous boyfriend, knocks it out of the park. He is crazy, unstable and loving all rolled into one and it is his flawless portrayal of numerous faces that makes him so terrifying. Equally impressive is Katharina Gareis as Carla. A victim of Marcel's terrible medical condition, Gareis as Carla plays her part diligently and with poise. The audience needs to believe Marcel's highly split personality and it is both Graf and Gareis's performances that sell this premise. The two characters, although appearing for a brief time, manage to make their mark as well. All in all, the cast does well with the script provided and the acting is one of the stronger suites of the entire production.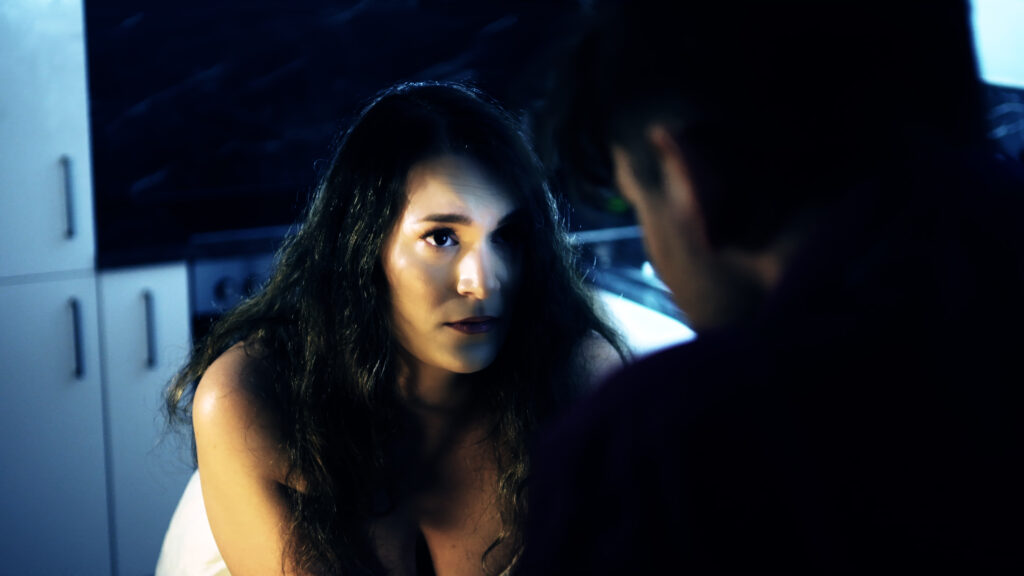 Ultimately, what works about the film is that it is terrifying. The film showcases a terrible reality; if you are in love with someone who has schizophrenia, this could happen to you as well. Your world can turn around in an instant and in a flash, you will find yourself in a situation that is the stuff of nightmares. This is not a horror film with aliens or monsters; rather this is a real condition that can induce terrible consequences for all involved. Ultimately, it is reality that is most disturbing and the makers behind the project have managed to create a film that is truly unnerving on multiple levels.
To summarise, the horror short 'I Love You' manages to do a lot of things right. The plot is great, the twists fantastic and there is a foreboding sense of terror peppered throughout the film. Rafael Maria Friebe has done a fascinating job, one that will resonate with the audiences long after the credits begin to roll. The film is a rare gem that manages to mix excellent storytelling, brilliant acting, and stunning visuals to create a truly unforgettable experience.