Welcome to an insightful journey into the world of independent filmmaking with a visionary who's rewriting the rules and breaking barriers. In this exclusive interview, we sit down with Antoine M. Dillard, an accomplished filmmaker with an electrifying portfolio that spans across genres and defies conventions.
Hi there! It is a pleasure to have you today! First, can you introduce yourself to our readers and share a bit about who you are, where you are from and what you do?
Thank you! It's an absolute pleasure to be here. My name is Antoine M Dillard, I am an independent filmmaker with a Master of Fine Arts degree in Visual Effects. I'm originally from New Castle, Delaware but I've lived all over the United States. I've lived in Delaware, Philadelphia, Phoenix, Florida, Colorado and now Georgia. Which has definitely helped me gain a wider perspective on life, which in turn has helped my storytelling. I've been working in independent film since 2010, first as a VFX artist then eventually as a filmmaker.
Can you tell us how filmmaking started for you? Is there a specific time / event that made you realise that this is what you wanted to do?
I've always been a storyteller, ever since I was a kid creating comic books on lined paper and crayons [laughs]. It was really more of a journey to find my medium as opposed to one particular event that made me want to be a filmmaker. Coming out of college I just wanted to create cool visual effects. I landed my first gig as one of many VFX artists for a film called The Otherworld. After a few more projects like Hecate and Inner Dimension (TV Series) I had some down time. So, I decided to give filmmaking a try and tell a short story based on a story I created when I was 8yrs old.

I had been refining this story from 6th grade until my sophomore year of high school and always wanted to tell it. It was extremely ambitious so I decided the best way to go about it was to create a short film that would introduce one character from my story, establish the world, and focus on just two characters on screen. It was a sci-fi detective film noir called Rise of the Avalanche. After I finished that film, I just knew this is what I wanted to do.
Taking an idea from conception to a fully directed film can be a challenging and rewarding process. Could you walk us through your creative journey, from the initial spark of inspiration to the finished film?
Aside from the Rise of the Avalanche series, my films come from a place of experience or real-life situations. For example, my film Gotta Make It. I had a close friend of mine that was EXTREMELY talented but had a difficult time finding a gig. She had been passed over because of the most trivial things, so I wanted to make a film to show the world how ridiculous the industry could be. At the time, my previous day job was Creative Director for a motion design company and part of my job was to hire/interview people. So, I experienced firsthand how much of a toss-up it can be choosing one person out of a handful of people that were equally qualified. For example, if someone misspelled a word on their resume, didn't indent on a paragraph or if the business card they used wasn't a color the higher ups particularly liked, they weren't selected for the position. That became the plot of Gotta Make It. An art student who graduated college and was a trivial decision away from a life changing dream job.
The same goes with films like Citizen Blaine about an army vet that was repeatedly woken up from his sleep, that happened to me so I made a story around that concept. Then there are other films like Crazy Weapon 5 or Captain Powerful where the idea came to me in the shower and it's just so cool I have to write about it. I've been blessed to be surrounded by the BEST cast of actors that are just so supportive and gun-ho about my projects so getting a film from the page to the screen is usually a very quick, fun and painless process.
We know that one of your filmmaking heroes is George Lucas, who had a knack for telling unique and groundbreaking stories. How has his work influenced your own approach to storytelling?
WOW that's a GREAT question. Ya know, after I think Gotta Make It which was my second film I started watching the behind the scene featurettes of the original Star Wars films and the prequels. This guy was just a man after my own heart. I had some ambitious films I wanted to tackle but I wasn't sure how I was gonna go about it or even if I should. So many indie filmmakers stick to Horror and Drama and for good reason, they're do-able. It just seems crazy to try to do Sci-Fi knowing how much it costs and the objective of indie filmmaking is to keep it cheap so you can get to the finish line. Lucas' approach to filmmaking is pretty much write an insane script and do what you can with whatever resources you have.

Things in the original Star Wars movie wasn't as grand as they were in the script or in his head, but he did it anyway. I remember he talked about how the cantina scene was such a bare bones version of what he wanted that he was livid when he got on set. I remember he said, "Nothing in the film lived up to my expectations except for the score." After watching the movie as someone in the audience you feel like "THIS IS HUGE, how much bigger could it have possibly been?" So, for me, I do the same, I write the script to my heart's content, then I try to figure out a way to get it done with the resources I have right now, even if it means scaling back or faking the scale. I often write around my resources, but the point is I get it done. I make the attempt and push to the finish line. Nothing is ever as grand as I initially wanted it to be but with each project I do I get closer and closer to what was originally written on that page because my resources grow and my creative approach to problem solving gets better.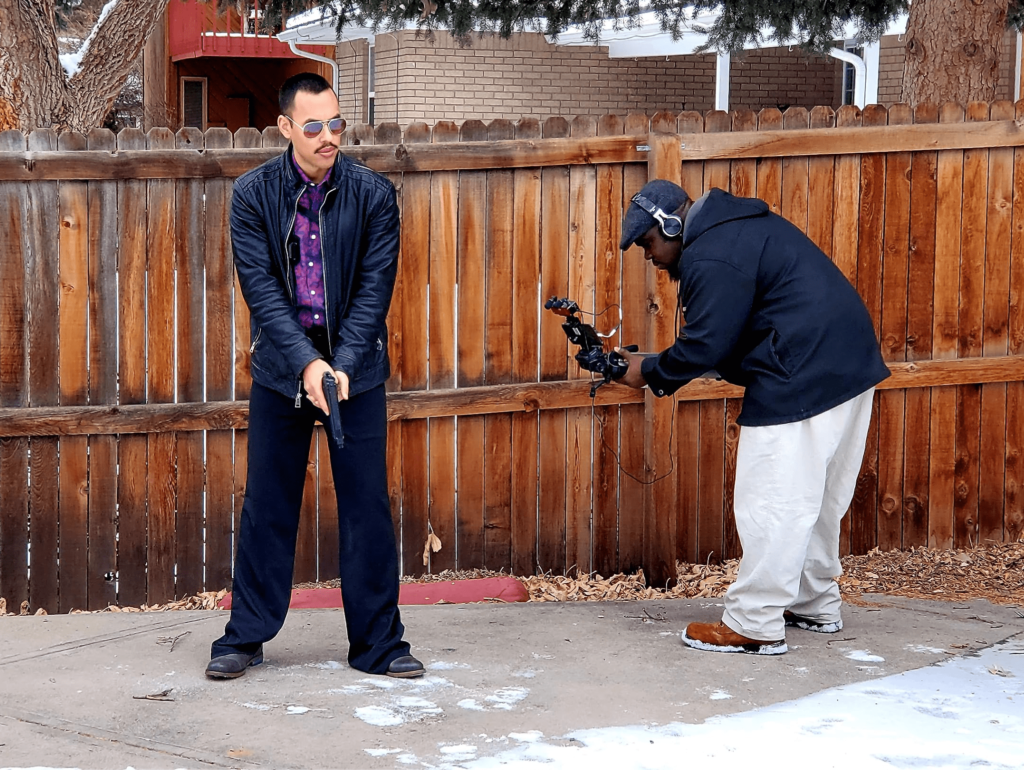 Your latest project, "House of Ra: The Legend of Reo," stands out for its genre-blending. Could you tell us more about the inspiration behind this film and the themes you aimed to highlight?
My inspiration for this was pretty much really wanting to see more adventure films. These days Hollywood is really into old film properties and superhero stuff, so we never get to watch anything original anymore. I REALLY miss those old adventure moves of old like The NeverEnding Story or Warrior's of Virtue, The Page Master even something like Indiana Jones (although not my favorite). Set the main character on an epic journey in a new land which often blends history, science and fantasy. I wanted to make a movie that was a throwback to the things I used to love. Especially now, when every movie that comes out seems to have a dark and cynical tone.
Your filmmaking journey has led you to create action-packed sci-fi projects with Black leads, breaking away from traditional genre norms. How important is it for you to showcase diversity and unique perspectives in your work?
It's one of the most important things in my career. One of the biggest things for me was creating films I've never seen before. I absolutely love science and history and I was always drawn to sci-fi and fantasy films as a kid. Films like RoboCop, Terminator, Time Cop & Back to the Future. The more movies of those genres I watched the more I noticed most of these films had all white or mostly white casts. As much as I love the action, sci fi & action/sci fi genres I hate not seeing myself in the genres. I told my wife one day, imagine Back to the Future EXACTLY how it is. Now imagine everyone being Black and not a line changed, not a relationship altered, not a scene tampered with. No stereotypes, no agendas pushed in your face and no preaching. Just characters on screen serving the story like they've always done in that franchise. It's mind-blowing to imagine how incredible that would be and staggering that nothing like this has happened yet.

That's EXACTLY what my mission is. Every film I've made has had black leads in all the genres I love. I want to show people that we're more than what's been typecast of us in Hollywood. We're more than the maid, the woman to be pitied or feared we're more than high drama and scandalous sexual objects, more than thugs, government dangers, sidekicks, the main character's best friend and screaming police captains. We can have childlike innocence and preserve like Atreyu in The Neverending Story, or a heroic adventurer like Conan and Peter Pan or escape into a secret world and fight to become a hero like Douglas Quaid in Total Recall. We've barely scratched the surface of our potential in film & I want to show the world that it's possible.
You've had the opportunity to learn from and be guided by industry veterans such as David Stipes and Kevin Scott Mack. How have their insights and mentorship shaped your growth as a filmmaker?
They are the foundation of what I've become today. I mean David Stipes in a VFX legend most notably for his work on Star Trek (DS9, TNG & Voyager) and I was fortunate enough to have him as a teacher at The Art Institute of Pheonix between 2002-2005. All the stories he used to tell the class about his experiences and his approach to difficult workloads were paramount in how I do things even today. As far as Kevin Scott Mack, I mean that guy is all heart, one of the nicest guys I've ever had the pleasure of talking with. Also, a VFX giant who worked on films like What Dreams May Come, The Fifth Element and Big Fish. While I was in college, I scrolled through the credits of The Fifth Element and saw his name in the credits.

I was able to get ahold of his phone number and just cold called him. He had no CLUE who I was but picked up on that I was a fan and instead of hanging up on me like anyone else probably would have done, he listened. We talked about my goals and dreams, and he gave me some REALLY strong advice. He also told me I could call him anytime if I ever needed anything. I did call him every few years after I graduated for advice, and he was always there to help. I haven't talked to Kevin or David in YEARS though. I wonder if they'd still remember me [laughs].
You also launched your streaming service, Indie Nation Network (INationNetwork.com), a platform for independent filmmakers. What inspired you to create this platform, and how does it support and empower fellow filmmakers?
GREAT question. So, this was a bit of a journey as well. I was about midway through my film career and was starting to get some notoriety. I felt my films were proven due to all the award wins and reception and it was time to expand my distribution options. At the time I was on Prime Video and was stoked about it. At the same time Amazon started to change their policies. Adding new automated quality test which got a few of my films removed for effects like film grain. They also changed their pay scale from 1cent per streaming min to .0001 per streaming hour. They also changed their search algorithm so if you searched for a film by name, if it wasn't an Amazon film or Hollywood film it wouldn't come up first. So, if "I Love Lucy" was an independent film there would be at least 10 to 15 films with Lucy in the title that would come up first based on popularity.
They also ended their program that allowed independent filmmakers to sell physical versions of their films on DVD and Blu Ray. I was gutted because I LOVED Amazon, but they seemed so focused on pushing their own content over independent films and shows. A LOT of filmmakers on Amazon were complaining in my Facebook and Twitter filmmaking groups about how Amazon removed their films without their permission and knowledge. They also received warnings that if they resubmitted their film their accounts would be suspended. This was also right around the time they announced that they had spent a billion dollars on the Lord of the Rings series. So, I was like okay, ya know what, there are other places to go. So, I went to FilmHub and started the process of getting my films distributed elsewhere. I'm not sure if it's still true but at the time they had rules where I couldn't have my films in a widescreen format and my feature had to be reworked so a conversion in one of the scenes could be heard more clearly during the gun fight. Mind you this scene we had bullets flying everywhere in a windy show mountain set, I was creating a mood an atmosphere. Raising the level of the conversation audio would have taken away the mood I created for that scene. That was the last straw, enough was enough. Filmmakers shouldn't have to alter their vision in order have their work seen and they should be paid fairly for their work.
So, when Biden was giving out the stimulus checks, I used all of mine to start a business and created Indie Nation Network. Filmmakers from all over the can submit (and have submitted) their films EXACTLY how they are. As long as the quality isn't terrible and they meet the minimum guidelines, filmmakers can have a platform that is for THEM. There is a 10-star rating system and a space to leave reviews so the audience can voice their opinion of your work. Filmmakers are paid 5-cents per streaming min which is the highest ANY streaming services pays out including Netflix, Tubi, & Amazon. The subscription fee is the lowest of any steaming service at $4.99 which will never increase. Indie Nation Network is a dream come true for us indie filmmakers and I've gotten such positive feedback from filmmakers and subscribers. We're still a small community of indie film lovers and creators but the support everyone has shown everyone else has just been amazing.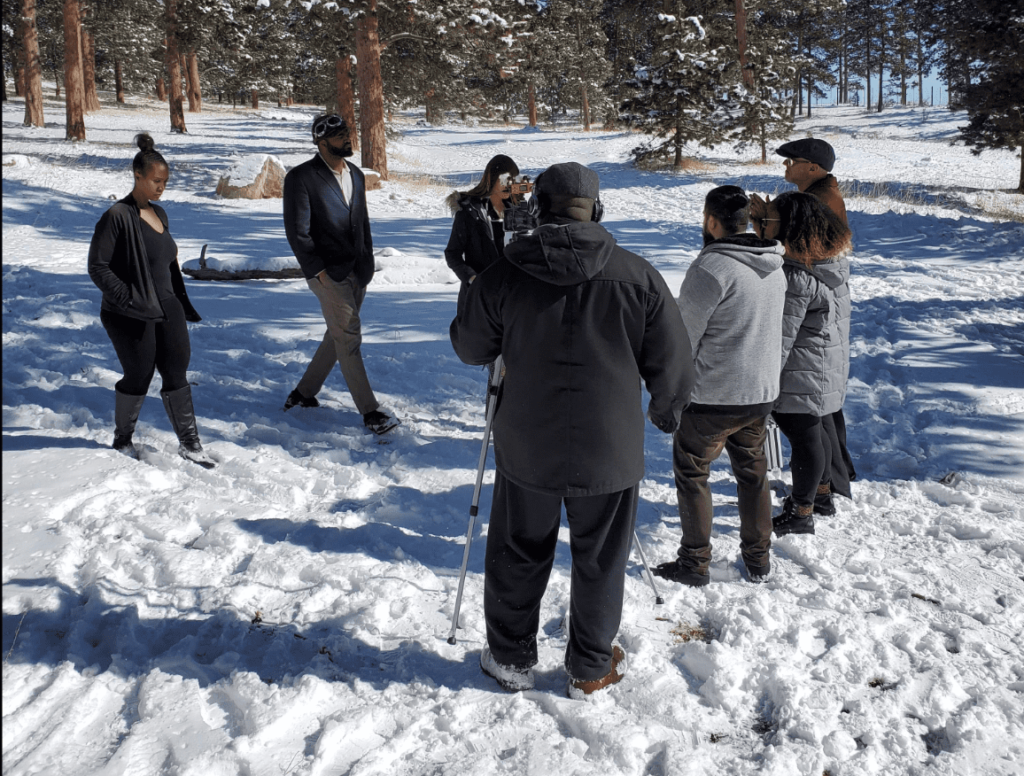 Looking ahead, what can we expect from you in terms of future projects? Are there any new genres or storytelling avenues you're eager to explore?
Yes! I am working on a series called Space Odyssey Adventures. The first episode starring Best Actor Nominee Adam Griggs is already done and is set to release Nov 22nd 2023. I will be doing a fundraising campaign in Jan 2024 to try to finish the remaining 6 episodes but if for some reason it doesn't manifest, I'm perfectly content with episode one. I know the country (everybody really) is going through a rough patch financially with strikes, layoffs, inflation, and homelessness so I'll do what I can and see what happens.
If you had to recommend just one movie to someone, which film would it be and why does it hold a special place in your heart?
As far as a Hollywood movie, I'd say Last Action Hero. It pretty much embodies the spirit of the action movie and what the genre means to fans as well as why those types of movies are made. Plus, it's just a REALLY fun ride.
As far as my own, I'd say Rise of the Avalanche Revenge from the Shadows and Crazy Weapon 5: Back for the First Time. Crazy Weapon 5 is my first feature film and a tribute to one of the best action movie franchises out there, Lethal Weapon. Rise of the Avalanche: Revenge from the Shadows is my childhood story come to life on screen for the first time in a big way. It's also the first film where I did all the production and post production work (except for the score) so there is just so much of me in that film.
As someone who has successfully carved a path in independent filmmaking, what words of wisdom would you share with emerging directors striving to bring their unique stories to the screen?
Just do it. It doesn't matter if you film on a cellphone or a red camera, it doesn't matter if people have told you your story is too ambitious or weird. Just make your movie and get it out there. You only get better with practice and your voice is worth hearing. You never know who you're inspiring out there by just existing.