The spotlight is back on the Jersey Shore once again, and this time it's all about the incredible comeback of the documentary film once known as "Making Arby," now rebranded as "Feelin' Lucky." The production partners, producers J.R. Poppa (Mikina) and Chris Vaughn (Jerseyboy Hero), of the award winning film "The Fifth Chair" are teaming up once again for a thrilling and artsy project set to take the boardwalk by storm on a real life rollercoaster ride of emotions, excitement and self discovery. Chris Vaughn & Company are poised to bring this story back to life after a 14 month hiatus.
A Fresh Start with "Feelin' Lucky"
"Feelin' Lucky" is a documentary that promises to be a captivating journey through the life and adventures of screenwriter, Chris Vaughn, as he documents his voyage as he writes and develops the screenplay for his next feature film "Royal Bastard," which is set in the heart of the Jersey Shore/New York City landscape. Vaughn being a Jersey Shore local, graduating from Shore Regional High School with such notable alumni as Holly Black (Spiderwick Chronicles), Fred Schneider (The B-52's) and John Farrell (Boston Red Sox) has always had strong ties to the New Jersey. The decision to change the title to "Feelin' Lucky" was a strategic move by Vaughn and Poppa to better align with Vaughn's sister project mentioned above (Royal Bastard) which revolves around the development of the charismatic lead, "James "Lucky" Scott."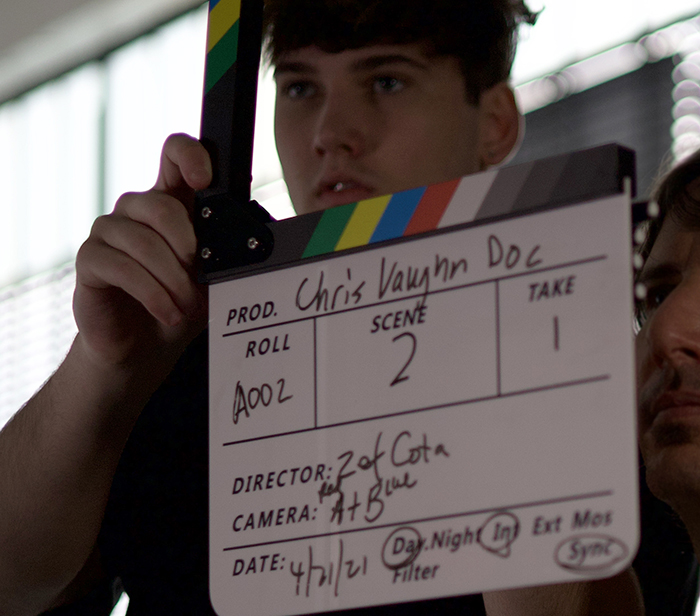 New Jersey-New York Styled
The reunion of J.R. Poppa and Chris Vaughn, known for their remarkable grassroots work in "The Fifth Chair" which was filmed at Kevin Smith's (Clerks/Jersey Girl) private studio in Leonardo, NJ.  Vaughn, who has previously collaborated with Academy Award winners like Bruce Springsteen (Blinded by the Light) and Nick Vallelonga (Green Book): both Jersey boys; brings his unique blend of creativity and expertise to both projects. Together, Poppa-Vaughn, are poised to deliver an exciting documentary that captures the essence of the Jersey Shore-New York City dynamic like never before.
Production Resumes by November 1st, 2023
Stay tuned! Production on "Feelin' Lucky" is set to resume by November 1st, 2023. The team is determined to bring Vaughn's story to life with style, passion, and authenticity. Expect stunning visuals, heartfelt interviews, original music and a narrative that will keep you hooked from start to finish.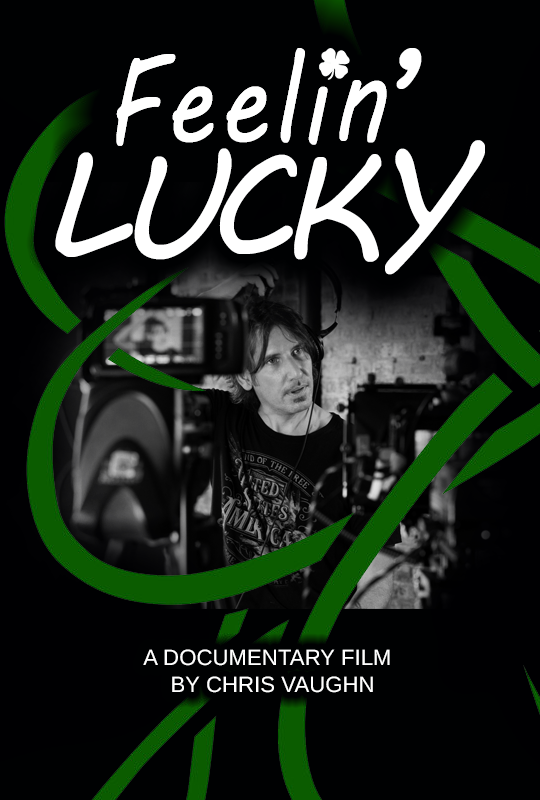 The Exciting Sister Project – "Royal Bastard"
But what about Lucky?! Chris Vaughn has been penning a screenplay for this feature film tentatively entitled "Royal Bastard," for about 2 years. The story delves deeper into the world of James "Lucky" Scott, an American Socialite born of suspicious intrigue. The script has caught the attention of Hollywood Producer, Keli Price (Bandit) of Price Productions and is currently in the packaging stage of pre-production. As we speak, the team is actively seeking an established director to bring this thrilling story to the silver screen in hopes of drawing a-list talent to the edgy screenplay.
"Royal Bastard" promises to be a cinematic experience like no other, with Lucky's extraordinary journey taking center stage as "the bastard American heir to the English throne." As the project unfolds, I expect it to become a must-watch for film enthusiasts and Chris Vaughn fans alike.
So, gear up for a double dose of Chris Vaughn's world – the captivating documentary "Feelin' Lucky" and the promised feature film "Royal Bastard." With Chris Vaughn at the helm, these projects are destined to make waves in the world of cinema. Stay tuned for updates and get ready to immerse yourself in the incredible tales of the Jersey Shore's most enigmatic character – James "Lucky" Scott… or is it Chris Vaughn? Only time will tell.