Written and directed by Don Tjernagel, 'The Moving On Phase' is a comedy drama that stars Piper Freestone, Matt Anderson, Jillian Brown, Lily Jensen and Tjernagel himself. Chronologically the third feature film to be directed by Tjernagel, the film is made under his Donzilla production banner.
Young Piper is in love and as her boyfriend asks her out on a special date, Piper cannot help but think that he will propose. However, against all odds, Piper not only finds herself dumped on this special night but also becomes homeless as she had moved in with her ex-lover. With her world shattered and her self-confidence at an all-time low, Piper retreats into the company of her friends and acquaintances to rebuild her life. Facing the challenges and obstacles of young adulthood head on, Piper will learn to let go, take life as it is and give love a try once more as she tries to jettison her emotional baggage for a happy, fulfilling life.
Don Tjernagel has a knack for constructing intimate stories that audiences can relate to on a personal level and with 'The Moving On Phase', he has once again made a film that excels in human drama as much as it does in the other realms. Tjernagel here, like his other films, draws up fantastic characters that feel real and might as well have been your friends. Coming across as an individual who is intimately familiar with the ups and downs of human existence, Tjernagel takes the young adult protagonist and puts her through the grinder, shaping her journey through life's numerous pitfalls with a flair for both emotion and wit.
The star of the story is Piper, who after being dumped by her boyfriend who she thought was going to propose, moves from one trainwreck to the next as she re-evaluates her life and what brought her to this critical juncture. Accompanied by friends and accomplices, Piper will anchor down her insecurities and fears and will learn to face life head on. She feels changed by the sudden betrayal of her boyfriend and through this trauma, like a phoenix rising from the ashes, Piper finds herself transforming as well. This transformation of Piper, from a scared young girl to a grounded and confident woman, is handled perfectly and one cannot help but appreciate the narrative mastery on display at this important juncture of the story.
Taking up double duty as both writer and director, Tjernagel proves himself to be the perfect man to bring this story onscreen. Like all other his productions, Tjernagel himself has a small cameo in this film as well and the signature easter eggs such as scenes in strip clubs and bars are present in the film as well. Tjernagel has a knack for capturing middle America well and all his films revolve around everyday people dealing with real problems in their normal little lives. In the age of outlandish fantasies of superheroes and spies, it is refreshing to see a director dipping again and again into real life human drama to formulate stories that hit you emotionally, make you identify with the struggles of the characters and change you in a positive way.
In regard to its technical aspects, 'The Moving On Phase' bursts out of the screen due to its stunning cinematography. Perfectly capturing the yellow dimly lit interiors of bars, the film has a visual narrative of its own that complements the human drama unfolding onscreen. Tjernagel keeps the camera fixated on Piper and most of the film is shown through her perspective as she goes through various life changing experiences. Piper's moral conundrums, her interactions with her friends and her overarching journey are visualised in the most organic way possible.
The music choices are another huge win, and they work to set the tone of the film. In addition, the sound mixing, and sound editing are also good. Despite being a 'supposedly slow' drama, the eighty-minute runtime whizzes by courtesy of the fantastic editing and poignant narrative pacing. Tjernagel chooses to move the story at a breakneck pace, fully realising that any attempt to add more drama into the mix would grind the narrative into an inescapable halt which would negatively affect the unfolding of the main story.

Poignant and moving, Don Tjernagel's 'The Moving On Phase' is a story about life itself from the perspective of a young female adult. Chartering her mistakes, voyages, and experiences; the film is a love letter to young Americans who might have felt lost, alone and confused at any part of their young adulthood. Populated by fantastic characters and anchored by great performances, this is a film that accurately reflects young America without filter. Tjernagel has made another great film, one that will not only speak to multiple demographics but will also initiate a conversation regarding the trials and perils of America's Lost Generation.
WATCH THE TRAILER NOW!
ABOUT THE DIRECTOR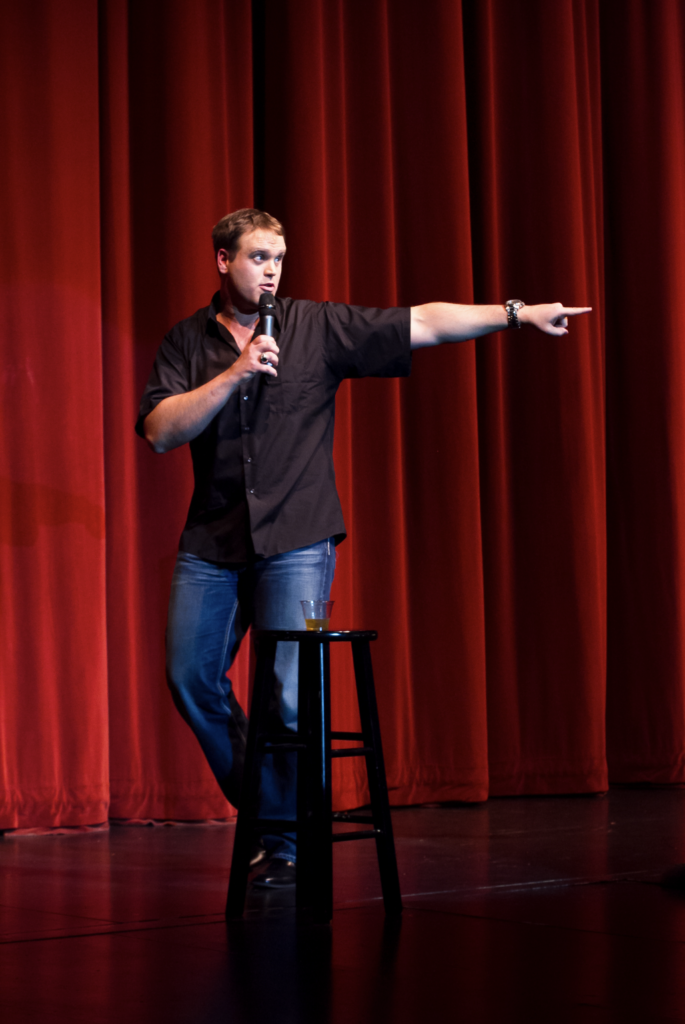 Don Tjernagel, born and raised in Waterloo, Iowa, has been doing stand-up comedy since 1997. As a young man, Don played football until sustaining a serious injury during spring practice at the University of Northern Iowa. Don decided to try stand-up on a whim in 1997. Not too long after that Don's popularity led him to do a show in several Las Vegas clubs such as the Casino Royale Volcano Lounge, Bourbon Street Hotel, The Monte Carlo and the Las Vegas Hilton Hotel.
With the start of his first show at the Casino Royale, Don became the youngest comic to star in his own show on the Vegas Strip. In August of 2003, Don wrote a book about his travels through the country as a comedian. The book, called American Infidel, detailed his observations as a comedian and American citizen (mostly writing about his sex life and women in general, while simultaneously expressing his views on the First Amendment). Don started to record his stand-up in 2008 with his first DVD release, Smut. Don continues to record his stand-up on both DVD and CD. His last release was the DVD Filthy which was released on 12 July, 2011.