Founder and Award-winning Filmmaker + Actor + Artist
Born in Seoul, South Korea and growing up in a very portable military Puerto Rican family, pushed Sharon to be inspired by the world around her and especially Saturday morning cartoons. From a very young age of five, Sharon started to have an interest in all artistic mediums.
Hi there! Can you introduce yourself and share a bit about who you are, where you're from, and what you do?
My name is Sharon Strange, (Crystal Correa's HIGHER SELF, aka HER SOUL). I am an award-winning filmmaker, animator and artist. Recently, as of August this year, I was finally able to connect with my 3D human body full time and unlocked my many psychic abilities. My goal is to assist with awakening the world in the strangest ways.
Since I have been awakened, I operate on a higher vibration. My core being is a Blue Ray Starseed. I am from the Stars; I hop around the Universe. I am one of the original Lightworkers designed by the Creator (GOD). So I co-create directly with the Creator and my Guides in order to complete my many missions. My Guides are currently protecting my energy. Basically, I live inside an invisible protective bubble when I come out to create.
My goal is to enlighten others to unlock themselves to their fullest potential, to not be afraid of who they are at their core level. I am a lot to unpack, so I hope everyone enjoys my first interview as Sharon and not Crystal. I am her secret life, finally exposed.
"I always made sure to focus on learning all types of art media and all the departments in film, as well. My goal was always to have a production company and run it, be a real-life Wizard of Oz."
You make films, but we can't define you only as a filmmaker. You have an interest in all artistic mediums, you said that "inspirations have always come from a bit of both real life and [your] colorful imagination." Is there a specific time/event where it all started?
I have always been able to tap into my younger self (from the 5Dimension into the 3Dimension) to find ways to grow my artistic skills, with limited resources. I am self-made. I wasn't surrounded by a helpful support system but that never stopped me, plus I always had my Guides and faith by my side.
If anything, it pushed me to stay out of trouble and go within. I always made sure to focus on learning all types of art media and all the departments in film, as well. My goal was always to have a production company and run it, be a real-life Wizard of Oz. I will be known as THE CEO, THE CEO of C+MEDIA, who can do all the lanes in art and film and who has cool spiritual gifts, like Edgar Cayce, another American clairvoyant. Fun fact: I actually interned at his center, Edgar Cayce's Association for Research & Enlightenment.
Your short film Crystal the Creep: Chronicles of a Creep has been entered in festivals and has won many awards. Could you please tell us more about this project?
This was a challenge because I had never shared this side of me before. I was known as a CREEP, but no one really knew the truth, my truth. Not even my family on Earth was allowed to know this side of me. They weren't open to anything "different." Anything that challenged them, they rejected. So I just bottled everything inside until I finally felt safe enough to share it.
I am a Lightworker, and I can see beyond what is presented to me. I can see the truth which bothers entities (demons) on Earth. I have studied them secretly and learned their ways in order to defeat them and confront them. A lot of people don't believe in black magic or spirits, but I see the world strangely differently.
"My inspiration was my life, my secret life, that I was never allowed to share without being labeled "strange.""
What was your influence, your inspiration when making this short film?
My inspiration was my life, my secret life, that I was never allowed to share without being labeled "strange." So I focused on learning everything I could in art and film, so that one day I would be able to share my strangeness with the world, unapologetically. And that attracted the attention of many not-so-nice people.
They tested me with their inner demons, in order to try to break me. But they never will because I work for GOD. And I was doing GOD's work by not lowering myself to their level but rising up above it. I took all their betrayals and turned them into life lessons (in "THE STRANGE SAGA") for future generations to learn from. "It stops with me" was the mentality that kept me going—being a positive example of how, no matter what others say or do, they can't stop you from completing your mission.
"It pushed me into being open to the universe and truly riding the creative wave. It was a freeing experience."
What have been your greatest challenges in making the film—both on the creative and directing sides?
In Creep, there are many channeled messages from different spirits (good and bad). I go into more details as the SAGA continues. I am spiritually gifted, so I am able to tap into many different lanes. And I used all my gifts to create this project.
It pushed me into being open to the universe and truly riding the creative wave. It was a freeing experience. And I was able to channel a couple of past lives in order to figure out what was happening in this one. It was like solving a mystery. I really had to dig deep inside myself to figure it all out. Creep is actually inspired by my past life as a monk, when I was an exorcist.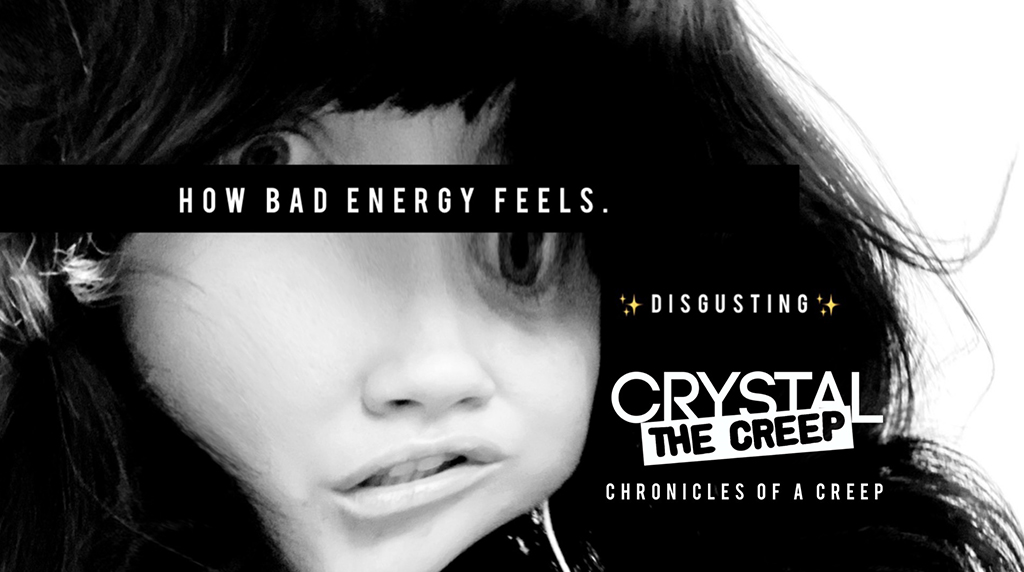 You wrote and directed the film but you also starred in it. Tell us about your acting process. How do you get into a role?
My film-making style was inspired by the YouTube culture and the vloggers. I vlogged as "CREEP." My short is 100% unscripted and was guided. I shared everything I have been wanting to share all my life. It felt good to get it off my chest. How I directed myself was I imagined these were "secret vlogs" I was recording for myself. That helped me be really relaxed and authentic on-camera.

What would you like the viewers to take from it?
I want my viewers to have an open mind when it comes to spirituality and not be so scared. Just be respectful. Don't be afraid to do you own research and question things; it actually will strengthen your intuition.
Don't be so quick to judge things even if they don't make sense right away, because some things take a bit more time to manifest. I don't like being rushed, so it took me a while to finally release my current masterpiece, THE STRANGE SAGA.
"This is my art manifesto, decided to do shadow-work and trigger myself for art. And went into my life mission…as a real-life lightworker.

Enjoy."

Sharon Strange Director Statement
You are the CEO of C+MEDIA. Could you share what this is and how you would describe your universe?
I focus on animation and film at C+MEDIA and sharing my version of the Universe, which is full of life, colors (I am a RAINBOW and the POT of GOLD) and a ton of different characters (based on this world and other ones). Starseeds were created to heal others and bring hope into any situation, which is what I am doing through film and art. I try not to focus on the negative side of life too much unless it's to use it as an example. I can tap into dark or light realms, but lately I just been focusing on how to handle my company's future.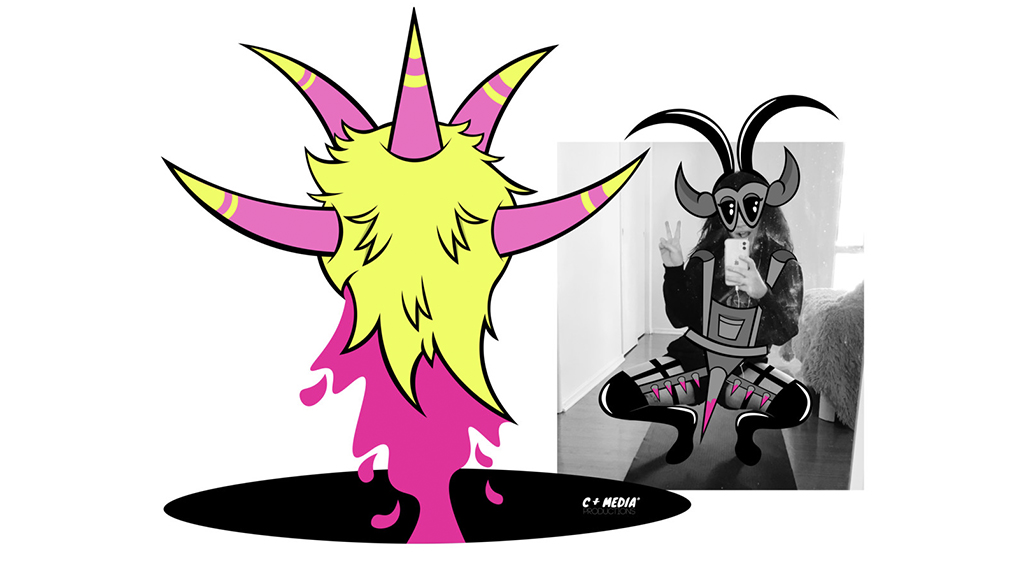 What are the upcoming projects you are working on?
I am finally wrapping up THE STRANGE SAGA, which is all filmed like the same vlogger style but more Alice In Wonderland vibes. Sharing my original art, I made sure to change things up a bit in all the different chapters. It's truly amazing to finally share what is inside my rabbit hole, a little tease version.
What can we wish for your creative future?
Now that I have finally shared my truth and my spiritual gifts publicly, I would love to keep expanding C+MEDIA PRODUCTIONS and grow with an amazing team. One of my goals was to become a CEO of a company and I am finally manifesting that goal into reality.
I hope I can share that chapter with my own TV show— "THE CEO of C+MEDIA"—to keep sharing with others how I perceive the World and Universe and how I overcome challenges while also running a production company on Earth.
Crystal The Creep, directed by Sharon Strange
"CRYSTAL THE CREEP", is a dark comedic and animated show about an unapologetic part-time exorcist (✨lightworker ✨) and full-time cartoonist named Crystal. With the help of her best friend Simon, a full-time entity, they work together to save humanity, barely.