Hi there! Can you introduce yourself and share a bit about who you are, where you're from, and what you do?
My full name is Fabricio Estevam Mira Almeida. I am brazilian and born in the city of Campos dos Goytacazes. A city in the interior of Rio de Janeiro where the population feeds their minds with television soap operas and their morals and culture in evangelical churches led by wolves who no longer need to wear sheep's clothing.
Where politics and corruption are inseparable synonyms and intelligence is a sin. I have been a drug dealer, nightclub bouncer, photographer, bartender, porn film actor and director, and bakery cleaner. At the moment I am a painter and am learning the cello.
Your latest produced short "No More" has entered festivals and has been well received. Is there a specific time / event that made you realise that this is what you wanted to do?
Whatever art form I got into was just the path chosen at the moment so that I could say something. It was a response to a need. No More is just that: another medium for another need for expression.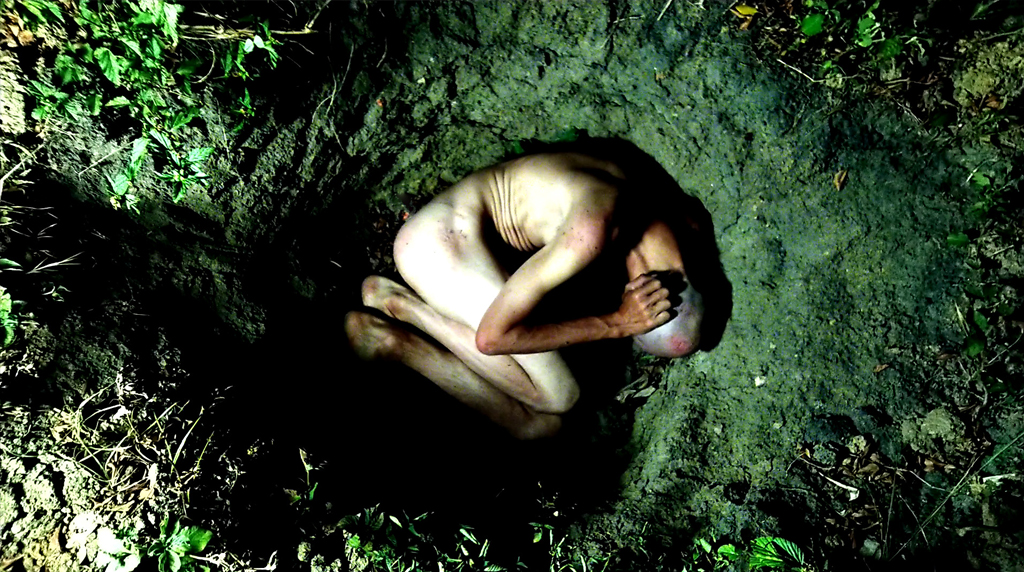 You got involved with painting and movies to "search for some meaning". What is your relationship with filmmaking today?
A film is a complete art. An art that contains several others and precisely because of this I can get lost in it for a long time. And it is in this created reality where I find some meaning. It is the air I can breathe. Outside of that I only hear the constant and deafening noise of clocks.
"No More is a small punch on a gigantic wall."
Why "No More"? Why was it important for you to release that film?
Mostly because I don't want to suffocate. And that's what happens when you have to shout something anyway. When I leave home I am assaulted by promises of paradise on public transportation. In the sound of the radios. In the images and sounds of brazilian television. My filter is minimal or non-existent. I either hide or attack back. No More is a small punch on a gigantic wall.
"Is your soul worth the sacrifice of a god? The pain, tears and blood of a god?"
Tell us about your filmmaking process. How do you go from an idea to a produced film?
First I need to feel that what is going to happen is inevitable. When it happens I know it will be worth it because it is real. Then it's war. Writing the script is war. Casting is war. Rehearsing is war. Acting is war. But it is the only war that is worthwhile. Nothing is easy and each conquest is a thrill.
You directed but also starred in "No More". You said that you "didn't have the money to pay someone to lose weight and act. So [you] had to do it. [You] lived for months as the character". Could you explain what was your process and what you went through to make the character come to life?
When I started writing No More I was at a point in my life where I could only see two alternatives: either give myself completely to something I believe in or commit suicide. I was full of passion but had no target for that passion. I didn't believe (and don't believe) in society and I was beginning to not believe in myself. I had nothing left to lose but the rest of my dignity.
So why not try? It would be catharsis. It would be purging. I decided to throw myself in. My goal was to destroy my defences. To expose myself completely until I became a complete stranger in the world. Then came the diet. It was not something very gradual. In one week I was eating one boiled egg and one apple a day. With hunger my sense of smell seemed to sharpen absurdly. During one of the evenings when I went out for a walk to burn calories I smelled a strong smell of food on the street. It was the smell of a garbage dump. On any other occasion I would have been disgusted by that smell but in that situation I could find the smell of food among the rotting smell.
I started to lose a lot of weight and with the weight my sex drive. I stopped producing sperm. My girlfriend broke up with me (rightfully so). I got dizzy every time I got up and once, because I got up too quickly, I fainted, hit my head on the wall and then my head on the floor again. I woke up in pain, and so disoriented that I really thought I had been attacked by a car. My legs were in absurd pain. I started to think constantly of meat.
Then raw meat. That's when I tried raw liver for the first time, and what I felt was something totally new. It was a kind of peace that I had never felt before. I felt a kind of ecstasy that lasted for about an hour.
The pandemic came and the filming was delayed. I developed food compulsion. I started stealing food and then cycling for up to six hours. In one of these crises, I dropped the material from the garbage can that was in the kitchen. I scattered everything on the floor after a piece of candy that was at the bottom. Putting that dirty candy in my mouth was like cumming. I was kicked out and lived in a torn camping tent with my three cats (my ex also threw the cats out on the street). I was kicked out of the place where I had camped. Lost a tooth. I ruined several. One day the fingers of my hands started to twitch after every little meal. I saw that my body was collapsing, so I relaxed my diet in order to continue.
"Whatever art form I got into was just the path chosen at the moment so that I could say something."
What would you like the viewers to take from "No More"?
Is your soul worth the sacrifice of a god? The pain, tears and blood of a god?
What are the upcoming projects you are working on?
A feature film about a libertarian couple and their three-year-old daughter in shock at the current brazilian situation. The script is ready and registered.
What can we wish for your future in filmmaking?
May I complete my feature film. That's all.
No More – About the film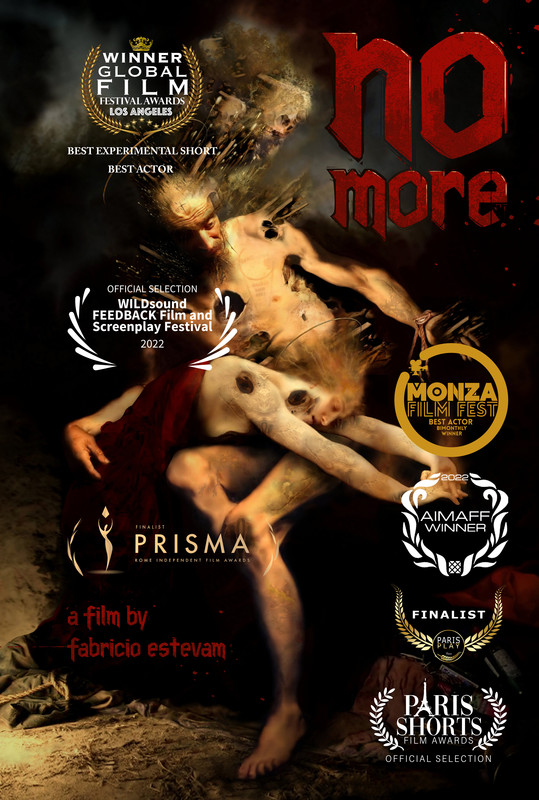 While shaving his head in a dark and shabby bathroom, Jesus, thin, filthy, and in torn clothes, nurtures doubts about everything. Until the owner of the crumbling hotel where he lives knocks on the door, shouting at him for months of unpaid rent.
Jesus is at his limit and runs away without direction. From humanity and from the obligation to save it. He flees from an omnipresent and manipulative father, cowardly and adored by hypocrites and murderers. Jesus flees but he is not the only one. Magdalene and Lucifer are out there. Watched by God. Lambs refusing to be slaughtered in a world of wolves hungry for eternal life.