On behalf of his fellow producers of Top Gun: Maverick, Jerry Bruckheimer will accept the ICG Publicists (International Cinematographers Guild, IATSE Local 600) [editors, please use "ICG PUBLICISTS"] 2023 Motion Picture Showpersons Award at the 60th Annual Awards luncheon to be held at The Beverly Hilton on March 10, 2023, it was announced today by Awards Chairs Tim Menke and Sheryl Main. His fellow producers are Tom Cruise, Christopher McQuarrie and David Ellison. Nominated for six Academy Awards, including Best Picture, Paramount Pictures' Top Gun: Maverick was one of the highest grossing films of 2022 with over $1.4 billion worldwide. 
Baird Steptoe, ICG National President, said, "The producers of Top Gun: Maverick have brought together an incredible team to create a legendary blockbuster. The film is credited with saving cinema, having brought movie loving audiences back to the theaters post-Covid. From conception, to production, through multiple pandemic delays, to a record-breaking award-winning theatrical release, the Maverick journey has been a feat of spectacular showmanship."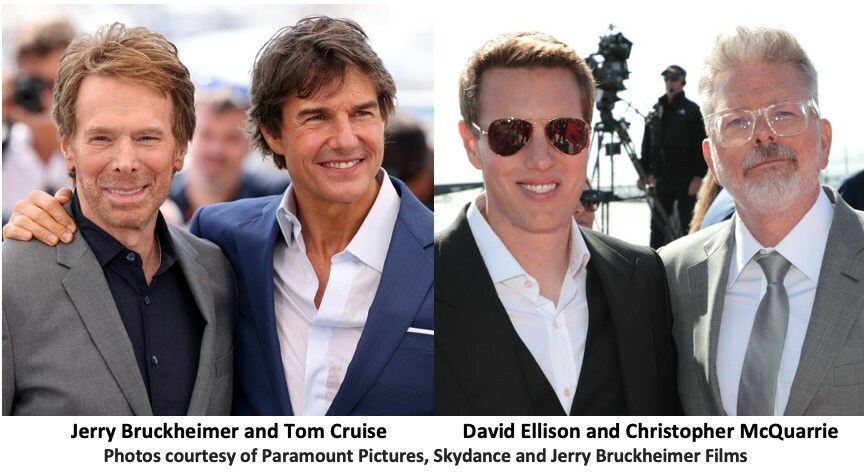 Perhaps the most successful film and television producer of all time, Jerry Bruckheimer productions include the monumentally successful Pirates of the Caribbean, National Treasure, Bad Boys, and Beverly Hills Cop franchises, Black Hawk Down, Pearl Harbor, Remember the Titans, Armageddon, The Rock, Crimson Tide, Top Gun and Flashdance.
Tom Cruise is a global cultural icon who has made an immeasurable impact on cinema by creating some of the most memorable characters of all time. Having achieved extraordinary success as an actor, producer and philanthropist in a career spanning over five decades, Cruise is a four-time Oscar® nominee.
Christopher McQuarrie is a writer, producer and director whose credits include The Usual Suspects, Edge of Tomorrow and Mission: Impossible Fallout. He is also known in the industry for his uncredited work as a script doctor, film editor and production consultant across numerous genres.
David Ellison is Chief Executive Officer of Skydance Media, the diversified media company he founded in 2010 to create elevated, event-level entertainment for global audiences. As CEO, he sets and executes the strategic vision for the company across all of its divisions: Feature Film, Television, Interactive, Animation, New Media and Sports.
The ICG Publicists Motion Picture Showperson of the Year Award recognizes a person, persons or company whose creative accomplishments in the formulation, development, production or presentation of motion picture projects best represent that special spirit traditionally defined as showmanship. The award has a distinguished history of past recipients including legendary filmmakers Denzel Washington, Jon M. Chu, James Cameron, Kathleen Kennedy and Frank Marshall, among many others.
For information on the ICG Publicists Awards 2023, visit: www.icg600.com.