Film leaders from around the world were honored during the Cultured Focus Magazine Awards and Diversity in Film Symposium at the 79th Venice Film Festival event.
The program took place at the prestigious Hotel Danieli, a luxury hotel overlooking the Venice Lagoon. It was hosted by Taylor Re Lynn—an American actress, producer, and philanthropist.
Award-winning American actress, producer, and writer Francesca Van Horne took to the stage as the event's moderator and led the discussion between a panel of film industry leaders.
The Excellence in Film Award recipient was American director, producer, and cinematographer Evgeny Afineevsky. His passion for storytelling goes far beyond a country's borders, as he visits some of the world's most dangerous places for his documentaries. Many of his films capture harrowing accounts of wartime and he doesn't shy away from pushing the boundaries to share meaningful stories and uplift the voices of marginalized communities. During the panel discussion Afineevsky reaffirmed the importance of elevating diverse voices, "We're trying to bring these voices that I think we, as Hollywood, you and the magazines and media, we're trying to give them a platform, like you provided the platform to bring your art. It's important to share art, to have this chance, specifically for the filmmaker who is just debuting. And I know how important it is, so I admire what you're doing here. So, it is important to bring these voices further, and through different platforms: magazines, art – to bring these voices forward, so that people can learn about disasters, can take action. And also, at the same time, pay attention to diversity. Ee learn about diversity from the films, and we're trying to follow the pattern. We're trying to learn from female role models. That's the importance of bringing diversity."
His film Winter on Fire: Ukraine's Fight for Freedom (2015) earned him an Oscar and Emmy nomination in 2016. More recently, he has earned four Emmy nominations for his movie Cries in Syria (2017). In total, his documentary films have earned him almost 40 notable awards.
The follow-up to his award-winning film Winter on Fire: Ukraine's Fight for Freedom is similarly titled Freedom on Fire: Ukraine's Fight for Freedom. It premiered at the 79th Venice International Film Festival this past week. Afineevsky attended the premiere with journalist Natalia Nagorna, his film's main subject. Nagorna reminded the audience "Every day, in my country… It's very interesting diversity, because every man, woman, child, dog, is in the same situation. We can die any day or anywhere in Ukraine." Yet, she spoke despite the hardship; there is the amazing spirit of the Ukrainian people that continues.
He told the audience that every voice should be heard—now more than ever.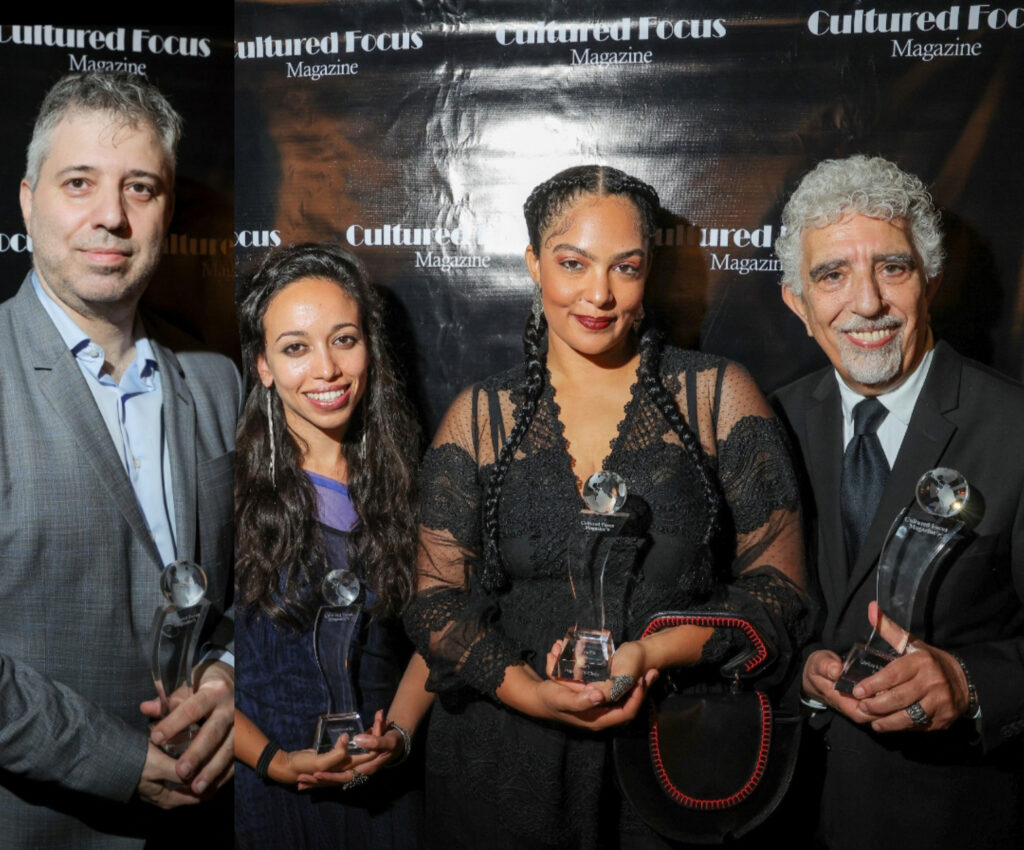 The Cultured Focus Innovation in Film Award recipient was American director, writer, and media artist Ainslee Alem Robson. Her film KANDAKA wasfeatured during this year's Venice Film Festival—telling the story of a strong female African leader who led her people into battle against the Romans. She calls her storytelling style both "experimental and emancipatory."
Her innovative approach to conveying her message in film combines both film and emerging digital art techniques. She has also received the Special Jury Prize for Ferenj: A Graphic Memoir in VR at the New Images Festival in France.
The Cultured Focus Lifetime Achievement Award recipient was Italian actor and producer Pino Calabrese. He began his career in 1972 as a theater actor but ultimately uncovered other diverse talents—working on musical works, dramatic theater, comedic theater, cabaret, and feature films. He holds an award from the Sorrento Film Festival for his work in the Italian film Respiri (2018).
Calabrese left the event's audience with this impactful statement: "I would like to imagine a future in which each person could be represented on screen. Diversity is wealth. We should never forget it."
The Cultured Focus Visionary in Film Award recipient was Afro-Italian screenwriter, director, and actor Daphne Di Cinto. You may know her from her work in the ultra-popular Netflix series Bridgerton.
This isn't Di Cinto's first time receiving an esteemed award. She won Best Short Film at the Italian Black Movie Awards and Best Director of a Foreign Short Film at the Madrid International Film Festival for Il Moro (both written and directed by Di Cinto).
The award-winning film was screened during the 79th Venice Film Festival—inspiring the audience with the film's true story. She said, "Italy had a black head of state. It was Alessandro de' Medici, the first Duke of Florence, in 1530. His story could have helped change the perception of the world, but it has been buried for centuries. His resting place in Florence doesn't even bear his name. My dream is to turn the film into a TV series, so we can tell his story even louder."
These Cultured Focus Award recipients were honored based on their accomplishments in film and are a testament to excellence in film and the importance of hearing all diverse voices.. We praise their achievements and groundbreaking films that challenge the status quo and advocate for diverse perspectives. The Cultured Focus Awards are a platform to recognize artists who through their work question and challenge the status quo.